by Jenn Carbaugh
– Columnist —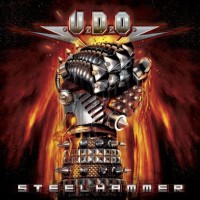 U.D.O. has released an album that metal heads everywhere will appreciate. This German band, consisting of Udo Dirkschneider and company, has delivered Steelhammer. Many expected the album to mirror the work of Udo's work in Accept, but this is an album that stands on its two heavy metal feet. U.D.O. has created an album that has so much guitar crunch and metal anthems that is sure to please head bangers.
This may be the band's 14th studio album, but the music is still pulsating and thriving right off of these tracks. They have been able to dodge the complaints about whether the sound is fresh or not. The unsullied sound can be attributed to a new set of lead guitarists, Kasperi Heikknen an Andrey Smirnov. These two brought more than vigor to the band; they brought guitar riffs and shredding sounds.
"A Cry of the Nation" encompasses the entirety of metal within the song. The rough anthem vocals are centered around a heavy and steady beat, while there is a magnitude of guitar variation that ranges from simple licks to high paced scales. Sometimes the sound is speedy and other times it is mid-tempo, but the sound is just right for each track.
Many of the songs have an angry, in-your-face attitude that looks good on this band. It doesn't just have a metal sound, they have a metal attitude. "Devil's Bite" starts out less intense but slowly builds into a catchy hook. "King of Mean" is another song that becomes catchy as Udo compares himself to other examples of what can be perceived as "mean" like a shotgun, chainsaw, and missile.
Steelhammer has more than just hard lyrics and edge in each song. "Never Cross My Way" seems to still have a message of being hard, but it is more melodic and has a sullen tone to the voice. "Heavy Rain" is one of the only songs to seemingly fall short on this album. It is a strained ballad. "Book of Faith" is another odd duck of this album, but it works in a nightmarish type of way. It is creepy and unsettling, but it is still a track that doesn't disappoint like that of the ballad.
For the 14th album, U.D.O. is still going and strong. They managed to bring new sounds, and keep the energy where it needs to be to push the album over the standard. Steelhammer has so many tracks that will reel you in and never let you stop head banging. Overall, this is definitely a recommended album.
Genre: Heavy Metal
Band:
Udo Dirkschneider – vocals
Andrey Smirnov – guitar
Kasperi Heikkinen – guitar
Fitty Wienhold – bass
Francesco Jovino – drums
Track Listing:
01. Steelhammer
02. A Cry of the Nation
03. Metal Machine
04. Basta Ya
05. Heavy Rain
06. Devil's Bite
07. Death Ride
08. King of Mean
09. Timekeeper
10. Never Cross My Way
11. Take My Medicine
12. Stay True
13. When Love Becomes a Lie
14. Book of Faith
Label: AFM Records
Website: www.udo-online.com
Hardrock Haven Rating: 8/10