Vigilance | Queen of Midnight Fire
by Jenn Carbaugh
– Columnist —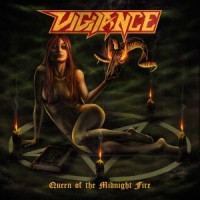 Vigilance, the classical style heavy and speed metal band, hails from the small town of Slovenia. For not being old enough to remember the beginning of the speed metal days, this band can really hold their own. They bring the heaviness with melody, speed, and some sweltering guitar solos. Queen of Midnight Fire is a pretty decent album that proves that Vigilance has concentrated skill.
The songwriting illustrates moderate abilities, but the actual music and instrumentals are where this band thrives. The drum work, in-particular, make a presence all throughout this album. In "Ritual of Death," there is a thundering sound that brings the intensity to a new level. There is a cohesive sound that brings consistency to the album. The guitar work is superb in terms of the riffs. It builds within the entire album.
Some of the top songs are "What Lies Beyond," "Four Crowns of Hell," and "Ritual of Death." The voice of Rejec seems to have a style similar to Iron Maiden's Bruce Dickinson when there is consistency. Songs like "Four Crowns of Hell" really displays the vocal abilities that Vigilance carries.
There are other songs that do more than bring intense sound and vocals. There are songs that encompass amazing melody and style as well. "Poetry and the Gods" is amazing, because it is an instrumental that leaves an impact that may be greater than certain songs with lyrics. The title does the explanation. There is a resonance and hum that is captivating.
Overall, this record has a sound that trails from a few decades ago, but this young band has brought this style into the present. The vocals may be lacking in some areas, but when they are consistent, they are great. This is a recommended album.
Genre: Heavy, Speed Metal
Band:
Jakob Rejec – guitar & vocals
Gilian Adam – guitar
Tine Kaluza – drums
Anze Stegal – bass
Track Listing:
01. Queen of Midnight Fire
02. Behind the Cellar Door
03. SpeedWave
04. What Lies Beyond…
05. Night Terrors
06. Four Crowns of Hell
07. Poetry and the Gods
08. Under Sulphurous Skies
09. Ritual of Death
Label: Metal Tank Records
Website: www.myspace.com/vigilanceofficial
Hardrock Haven Rating: 7/10