Adrenaline 101 | Demons In The Closet
by Matt Karpe
– Columnist —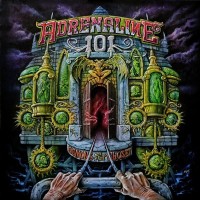 Swiss four-piece Adrenaline 101 release their sophomore album Demons In The Closet, with ten tracks of hard rock containing sleaze elements and occasional rap-core. It is an album with enough diversity to keep the listener engaged, but not always fulfilled.
The title track starts the album in energetic fashion, with raunchy guitar riffs from Hens Grubenmann, and Delon Cylon's raspy vocals making it a promising start. There is a similarity in style to Swedish sleazers Hardcore Superstar which is definitely a good thing here.
"Raise 'Em Up" is another track full of hard chugging guitar rhythms, and Reto Wild pounds the drums with great aplomb. There is also a small solo added for good measure from Grubenmann to round off another decent track.
"Straight Clownin'" takes a different direction, and although the excellent guitar work is reminiscent of Rage Against The Machine, it's the sub-par vocals that let things slide. Cylon's "rapping" is okay in places, but the silly lyrics he spits make this, in places, laughable and instantly forgettable.
"Come To You" is at the other end of the scale. A ballad with nice heartfelt words, a delicate guitar lead and soft and steady drumming make this a good listen, ticking all the boxes and becoming a highlight of the album.
The rapping returns on "Mayflies", only this time it works better as the chorus is thunderously delivered in good ol' hard rock fashion. Different guitar effects are used throughout, and the overall complexity of the song sounds a lot better thought out.
"Buckwild" is full of sleaze, aggressive guitar riffs and Cylon's great vocals sound like Vince Neil and Axl Rose mixed together. The whole song sounds like classic Mötley Crüe, as Adrenaline 101 successfully pull off their dip into glam metal waters.
The rest of the album falls short in comparison. "Shredding Tears" plays out in less aggressive manner, but it also lacks any real punch to interest the listener. "No Tomorrow" contains more average rapping, and although once again musically decent, the words and rhymes let it down.
"Guardian Angel" has a decent bass hook by Pascal Luder, but that's as good as it gets.
There are times here that Adrenaline 101 show great promise, and they definitely capable of making some good hard rock songs, but it's their ventures into other genres that are (right now) their downfall.
Maybe further down the line they will settle and find their true sound — once they are rid of their "demons in the closet."
Genre: Hard Rock
Band:
Delon Cylon- Vocals
Hens Grubenmann- Guitars
Pascal Luder- Bass
Reto Wild- Drums
Track Listing:
1. Demons In The Closet
2. Raise 'Em Up
3. Straight Clownin'
4. Come To You
5. Mayflies
6. Guardian Angels
7. Shredding Tears
8. Buckwild
9. Living For The XTC
10. No Tomorrow
Label: STF Records
Webpage: www.adrenaline101.com
Hardrock Haven Rating: 6/10