Andrzej Citowicz | Ace of Hearts
by Alexandra Mrozowska
– Columnist —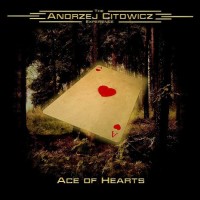 Not to rest on one's laurels is definitely a motto of Andrzej Citowicz, the Polish guitarist who has released his first EP Shot Down? Get Up just a few months ago now comes back with a package of twelve guitar-driven compositions which altogether comprise his first full studio album Ace of Hearts (to be released on Aug. 8.) As emphasized by Citowicz, the idea of recording such an album appeared circa 15 years ago. Now, having enjoyed no limits to his artistic freedom, he picks up his six-string again. Off starts a journey through the world of his musical inspirations and ideas he has been collecting throughout all these years preceding the release of Ace of Hearts; while tracks off his previous musical effort – Shot Down? Get Up – referred to the present, now Citowicz takes a step back as an artist and a person, offering a listener a sentimental journey which is definitely one of a kind.
There are many highlights of this journey back in time. "Be Brave Be Proud or Be Dead" is a brilliant opener, a track in vein of medieval stylistics fathomed thoroughly by such acts as Blackmore's Night or Heaven & Earth (if anyone remembers the brilliant collaboration of Stuart Smith and Joe Lynn Turner on "The Shadow of a Tyburn Tree" off the eponymous Heaven & Earth record). There is no doubt that guitar part of this track is one of Citowicz's finest work to date, reaching a consensus between dynamism and sense of melody. "A Different Kind of '80s" finds Citowicz channeling the tradition of 1980's AOR/melodic hard rock (yet, having been accustomed with Polish acts of this genre, one could find in it some traces of early 1990's IRA, Hetman or Kama-X). Ace of Hearts delivers a solid dose of instrumental ballads composed in vein of power ballad tradition ("Heart Rock", "Picture This", "Touch the Wind") while some other tracks, were vocals and maybe some additional arrangement added, could serve as well-crafted and fairly catchy melodic rock/AOR anthems ("Road to Heaven", "Summer's End"). The two last compositions off the album, "We All Fall Down" and "Bleeding Heart" are far from being classified as yet another instrumental "power ballads". Dark and gloomy, these songs are definitely the album's masterpieces, sequence of notes so telling in detail that they could easily build up a lyrical verse themselves.
Again, some obvious traces of Citowicz's inspirations are to be heard throughout the record. "Luvmageddon" is a wink and nod to stylistics characteristic to bands such as Def Leppard or, more recently, Grand Design, following the pattern of massive (but not repetitive!) sound and powerful riffs. The aforementioned "Road to Heaven" could have as well been a Casanova or Mitch Malloy track once lost in the studio recording process and now resurfacing, whereas the eponymous composition off the album in a way probes and extends the patterns of, for example, Richie Sambora's 1998 Undiscovered Soul record (not copying it, though). And since the golden formula of any recording is, basically, to let the traces and shades of musical inspirations shine through, yet not overshadow the artist's own style – Ace of Hearts is not to be accused neither of too eager borrowing nor the lack of artistic individualism.
Since Ace of Hearts is, as was Citowicz's previous EP, an instrumental album, one can only think of many possible ways in which the album's undoubted potential could be taken even further if there was a vocalist on board. If with accordance with Citowicz's initial plans, this record was supposed to feature vocals and one can only regret such an idea was dropped for whatever reason. And although Dirk Arnicke's brilliant production and arrangement evokes obvious associations with such masters of sound engineering and production as, for instance, Mutt Lange – the sound as massive and powerful as it used to be under the auspices of the best – surprising is the lack of any "real" instruments, except for the guitar and the bass, on the record (the rest consists of high quality samples and sample players, a technique commonly used nowadays). While the music's quality does not suffer from this, one could only suppose that the "real" band behind the music is what Citowicz definitely wishes he had.
Future plans aside, Andrzej Citowicz remains one of the unknown artists definitely worth taking a closer look at, especially at the breakthrough moment of releasing his first full-length studio album. Ace of Hearts is, according to the guitarist himself, "the recording made inside of his heart and mind only to be transferred into notes and riffs much later" – and, simultaneously, an album of extraordinary quality. Definitely worth being recommended.
Genre: Instrumental
Band:
Andrzej Citowicz (g)
Dirk Arnicke (b)(d)(k)
Track Listing:
1. Be Brave Be Proud or Be Dead
2. A Different Kind of 80ies
3. Heart Rock
4. Road 2 Heaven (At the Outskirts of the Forest)
5. Picture This
6. Ace of Hearts
7. Luvmageddon
8. Touch the Wind
9. Without Warning
10. Summer's End
11. We All Fall Down
12. Bleeding Heart
Hardrock Haven rating: 9.5/10