Deathrow | Deception Ignored
by Justin Gaines
– Senior Columnist/News Editor —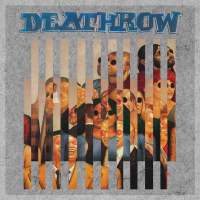 Originally released in 1988, Deception Ignored was the third album from German thrash metal band Deathrow. The band had released a pair of solid albums at that point, but it wasn't until they enlisted Uwe Osterlehner as lead guitarist that they really distinguished themselves. Osterlehner was both extraordinarily talented and determined to push Deathrow to see how far they could progress. The result is the perfect intersection of thrash and progressive metal.
With Deception Ignored, Deathrow went from your basic thrash metal band to something that sounded like Coroner and Watchtower's bastard offspring. Osterlehner's frenetic, almost mathematical guitar work is way out front, driving each song and practically daring the rest of the band to keep up, and to their credit they do just that. For all the technicality on display, the band – especially drummer Markus Hahn and bassist Milo – keep that steady thrashing backbone that keeps heads banging no matter how complex the songs may get. And Milo's vocals, which went from midrange to quite high, were the perfect accompaniment to the chaotic song structures.
With just seven songs on the album (eight if you count the bonus track "Beuracrazy"), there's not much filler on Deception Ignored. It does have its standout songs though, like opening number "Events in Concealment" and the lengthy, mind melting (especially the lyrics) "Narcotic." It's the 8+ minute instrumental "Triocton" that really showcases just how ahead of the curve Deathrow was though. Even the straightforward 3-minute thrasher "N.L.Y.H." has some dazzling solos.
For technical thrash metal fans, Deception Ignored is about as good as it gets. It's just a shame that more people didn't get a chance to hear it the first time around. Even the band seems less than thrilled with it all these years later. Still, Deception Ignored deserves a place among the classic technical thrash releases from bands like Coroner, Anacrusis, Watchtower and Believer, and it's an album any serious fan of the genre needs to own, especially now that it has been reissued.
Divebomb's 2013 reissue of Deception Ignored puts this long out of print (and rather pricy) album back in collectors' hands, and even though there are no bonus tracks, it's still a nice upgrade for those who did pick this one up way back when. The main draw is that the album has been digitally remastered by Jamie King, who did such an impressive job on Divebomb's previous Watchtower and Confessor reissues. The booklet features a vintage Metal Forces interview as well as an informative essay by Mean Deviation author Jeff Wagner.
Genre: Thrash Metal, Progressive Metal
Band:
Markus Hahn (d)
Sven Flugge (g)
Uwe Osterlehner (g) (k) (v)
Milo (v) (b)
Track Listing:
1. Events in Concealment
2. The Deathwish
3. Triocton
4. N.L.Y.H.
5. Watching the World
6. Narcotic
7. Machinery
8. Bureaucrazy
Label: Divebomb Records
Hardrock Haven rating: 8.5/10