by Steve Patrick
– Columnist —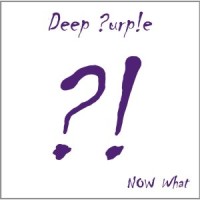 Earlier this year, legendary rock band Deep Purple treated their countless fans to a new studio effort, their first in eight years, and therefore added another worthy chapter to the already rich history of a band that has 45 years under its belt. The album, entitled Now What?!, was produced by Bob Ezrin and released via earMusic in April.
Now What?! opens with "A Simple Song" that starts with a haunting vocal from Ian Gillan leading into a signature Hammond organ attack courtesy of Don Airey. This unmistakable sound instantly declares that this is a Deep Purple album and that these sexagenarians have no intention of acting their age. As the lyrics to the song declare: "Time it does not matter."
The next track, "Weirdistan" has a decidedly Middle Eastern feel to it. This is not surprising given the recent solo output from Gillan on albums like One Eye to Morocco. Then there is "Out of Hand" which is another Hammond driven track that contains a frantic guitar solo from Steve Morse. "Out of Hand" is one of several songs on Now What?! that harken back to the classic Mark II era of the band.
The explosive song "Hell to Pay" chugs along with a "Space Truckin'" tempo and has a chorus that is practically begging to be performed live. Morse and Airey once again lock in sync with each other to produce a sound that only men of their experience can create. Gillain's voice sounds somewhat strained on the chorus, but the effort is still successful and admirable.
The upbeat "Body Line" shows off the jazzier side of Ian Paice's drumming and all the while is still propelled by Airey's relentless Hammond organ work. "Above and Beyond" has a synth intro that sounds like a mid-80's Eddie Van Halen keyboard composition. The track is actually a touching tribute to former keyboard player Jon Lord who passed away in 2012. A lyric from the song is highlighted in the liner notes of the album as well: "Souls, having touched, are forever entwined."
"Blood from a Stone" boasts some Doors-like atmospheric keyboard work and Gillan commands the lyrics with a swagger in his voice that only he could deliver. The majestic track "Uncommon Man" features a beautiful Morse solo that is enhanced by Airey's tasteful keys. The synth fanfare really adds to the drama of the song. A jam element in "Uncommon Man" shows the band firing on all cylinders, especially some fancy bass work from Roger Glover.
The signature Purple sound of Hammond organ mixed with a gritty, guitar strut can be heard on "Après Vous". This song once again culminates in an epic Morse vs. Airey duel. Perhaps the band was giving a tongue-in-cheek response to those that criticize their age when they wrote "All the Time in the World". Either that or maybe the song sums up Deep Purple's approach to making albums since the previous album Rapture of the Deep was released back in 2005.
The core album concludes with the bizarre "Vincent Price" which is the perfect song for our vampire and zombie obsessed society. In the song Gillan exclaims, "It feels so good to be afraid!" Naturally, this song will be making its way onto any classic rock fan's Halloween playlist this year. The concluding, bone-chilling scream from Gillan is sure to creep out the trick-or-treaters.
The deluxe North American release of Now What?! contains one bonus track, a cover of Jack Clement's "It'll Be Me". The song was first made famous by none other than Jerry Lee Lewis. Purple's take on the classic song sounds like the band had a great time recording it. The deluxe version of the record also contains a DVD with new interviews with the band. Clearly, die-hard fans of Deep Purple will want to seek out the deluxe version for these perks.
Overall, Deep Purple have done themselves justice on Now What?! and that is really all any fan could ever hope for. These five masters of their craft are not doing this to impress anyone at this point, nor do they have to. If Now What?! is the last Deep Purple record it is a worthy bookend to an unparalleled career.
Genre: Hard Rock, Rock
Band:
Don Airey – keyboards
Ian Gillan – vocals
Roger Glover – bass
Steve Morse – guitar
Ian Paice – drums
Track listing:
1. "A Simple Song" 4:39
2. "Weirdistan" 4:14
3. "Out of Hand" 6:09
4. "Hell to Pay" 5:10
5. "Bodyline" 4:26
6. "Above and Beyond" 5:30
7. "Blood from a Stone" 5:18
8. "Uncommon Man" 7:02
9. "Après Vous" 5:24
10. "All the Time in the World" 4:21
11. "Vincent Price" 4:46
12. "It'll Be Me" (bonus track) 3:02
Label: Eagle Records, earMusic
Online: www.deeppurple.com
Hardrock Haven rating: 9/10