Dio | Finding the Sacred Heart Live in Philly 1986
by John Kindred
– Publisher —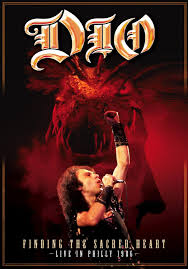 The first go around of watching Finding the Sacred Heart Live in Philly 1986 was on a laptop. Writing a review based on that small screen and tiny speakers just wouldn't have done Dio and his band justice. As big as the stage and the presence of Ronnie James Dio is live on stage performing, the experience can only be matched in a stadium or the next best thing would be a large screen TV and high end stereo system.
Finding the Sacred Heart Live in Philly 1986 was originally recorded and released on VHS and DVD in an edited form. For the 2013 re-release the concert is being released with the original set list running in its entirety. The original 16mm film has been re-mastered. For the most part the video is of decent quality. A little grainy at times, along with images that appear washed out and ultra smooth almost cartoonish… these variables don't hinder the presentation of the band. In fact the music is top-notch and showcases the musicians to be in fine form.
Having been on Dio's most lavish stage shows fans are treated to a massive stage show that included an animatronic dragon, lasers and pyrotechnics. Craig Goldy had only recently joined the band after the departure of Vivian Campbell and more than fills the shoes of Campbell. While the band had already been out on tour of the Sacred Heart album there time spent rehearsing with Goldy was limited. Having worked with Dio in the past, on his former bands project, Goldy had been already been playing the music of Dio, for his own enjoyment, and was more than ready to step and take over for the previous guitarist.
The set list contains Dio penned songs as well as Rainbow and Black Sabbath songs such as "Heaven and Hell" and "Man on the Silver Mountain." Songs that were new back in the day now known to fans as classic Dio songs are presented here in all their glory. The band is full of energy and very animated as they perform in front of the sold out show at The Spectrum in Philadelphia on June 17, 1986.
The DVD/Bluray re-release has plenty of bonus features included:
* "Sacred Heart Tour" Featurette
* Interview '86
* Interview with Ronnie & Craig
* "Rock 'n' Roll Children" music video
* Behind The Scenes
This is a definite must have for all Dio fans.
For a man of such a small stature, Dio the man and his legacy are far larger by comparison. As his catalog continues to be revisited, re-mastered and re-released, old and new fans are treated to an inspiration that fuels the fire of metal forever. Long live rock 'n roll…
Genre: Heavy Metal
Lineup:
Ronnie James Dio – Vocals
Jimmy Bain – Bass
Vinny Appice – Drums
Craig Goldy – Guitar
Claude Schnell – Keyboards
Track listing:
01. Draco Ignis
02. King Of Rock And Roll
03. Like The Beat Of A Heart
04. Don't Talk To Strangers
05. Hungry For Heaven
06. Medley: 'The Last In Line / Children Of The Sea / Holy Diver / The Last In Line (reprise)
07. Drum Solo
08. Heaven And Hell
09. Keyboard Solo
10. Guitar Solo
11. Sacred Heart
12. Medley: Rock 'n' Roll Children / Long Live Rock 'n' Roll / Man On The Silver Mountain / Rock 'n' Roll Children (reprise)
13. Time To Burn
14. Stand Up And Shout
15. Rainbow In The Dark
16. We Rock
Label: Eagle Rock Entertainment
Web: http://www.ronniejamesdio.com/
Hardrock Haven rating: 8/10