Fighting for Your Ryche: Queensryche – Featuring Geoff Tate
by Erik Tweedy
– Guest Columnist —
June 29, 2013 at Moore Theatre in Seattle, WA. —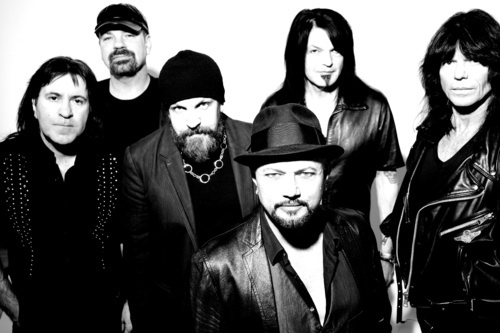 Did we just witness the last performance of Queensryche's legendary Operation Mindcrime played out in its entirety? Perhaps. On June 29, Geoff Tate's version of Queensryche rolled into the Moore Theatre in Seattle, a place the band has called home for 30 years and the location of 2006's live recording of Mindcrime at the Moore. So, what has changed since 2006? Plenty…..
If you have been out of the rock and roll loop for a while, Geoff Tate was fired by the band Queensryche and left to fend for himself in April of 2012. Since then, Tate has been on a mission to prove that he himself is Queensryche and the band that fired him were merely just players and have no rights to the name or the band's legacy. I for one, strongly disagree. Sure, Tate has surrounded himself with an all-star band that includes Rudy Sarzo on bass, Robert Sarzo in guitar, Kelly Gray on guitar (was in Queensryche from 1998-2002), Randy Gane on keyboards and both Simon Wright and Brian Tichy on drums, but it really comes across as a good cover band. This version of Queensryche is touring in support of the 25th anniversary of the release of Operation Mindcrime. OM is my all-time favorite album and I have had the pleasure of seeing Queensryche play it out in full about a dozen times since 1990 and it has always given me chills until now. This version of Queensryche, if that's what you can call it, is predicated more on flash and style than substance.
I have always been a Geoff Tate fan and respected his vocal prowess and amazing range over the years and he's still got the pipes, but the band just comes off as a bit over the top and campy. In my opinion, Queensryche the band has been every bit as important as Tate's vocals and Tate's band just didn't do it for me at all. Operation Mindcrime is all about the music and the suspense that builds along the way to the crashing ending of "Eyes of a Stranger."
I came to the show with an open mind, and it started out OK, but when the 20-minute drum solo appeared after "Speak" that sort of ruined it for me. Why the hell would you do that right in the middle of the songlist when you are playing it from start to finish? Was Tate already out of breath four songs into it? The drum solo was way over the top and a buzzkill right as the show was getting into full speed. On top of that, the drums are not tuned to sound like the original snap snare of the OM release which is an important element to the overall sound and it was annoying to me throughout the entire show. As Tate would comment later, "I have never had a drummer that could do a drum solo". That is a truly funny statement and a huge slam against Queensryche's drummer, Scott Rockenfield, generally regarded as one of the better drummers in rock music. That statement alone says that Tate is more about showing off than about musical substance.
During the performance I even closed my eyes to pretend that it was the Queensryche band there and it just wasn't working. The guitars are not tuned right, plenty of notes are missed, the background vocals are not even close and the drum sound was just bugging the hell out of me. The overall volume was way over the top and, Kelly Gray's guitar was so loud my head was ringing for two days. The real Queensryche band that features Michael Wilton on guitar, Eddie Jackson on bass, Scott Rockenfield on drums, Parker Lundgren on guitar and Todd LaTorre on vocals runs circles around Geoff Tate's version. For the casual fan that has maybe never seen any version of Queensryche, the show was probably more than palatable, but for me, a fan of more than 30 years, I thought it barely passed as an adequate tribute band that happened to have Geoff Tate on vocals.
Having seen the Todd LaTorre led Queensryche a couple of times back in March, I can easily say that I don't need to ever see Geoff Tate's version again and will give my allegiance to the real Queensryche band. After the Operation Mindcrime set was finished, the Geoff Tate band came back and played several well known Queensryche songs like "Empire," "Jet City Woman," "Best I Can," "Silent Lucidity," "I'm American," "Real World" and "Cold" from Tate's Queensryche release FU. As a bonus, Simon Wright came out on a separate drum kit so there were two drummers and Disturbed bassist John Moyer was added to the mix.
Overall, it was a bit sad to see Tate scratching and clawing his way through the show to prove that he is Queensryche and that the name and legacy belong to him. His onstage persona was over the top during the show and it almost felt like we were supposed to be bowing down and kissing his ring as if he was the Pope or something, saying that he "would always be watching over us and protecting us". By the time the encore hit it was getting to be a bit too much.
Time will only tell, along with the courts, as to which version of Queensryche ends up on top when it is all said and done, but right now the Queensryche band has a big lead in the race. Geoff Tate's best move now would be to just suck it up, admit defeat and head in a new direction in which he was already going. A direction the rest of the real Queensryche band did not want to go. As a fan, I will give my full support to the real Queensryche band and just have to accept that I will probably never get to see the live version of Operation Mindcrime again. Fortunately I have Mindrcrime at the Moore on DVD so I can relive the good ol' days whenever I want to.