by Justin Gaines
– Senior Columnist/News Editor —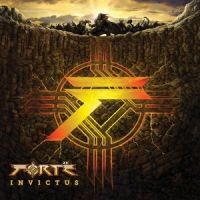 Having already delivered a deluxe reissue of Forte's debut album Stranger Than Fiction, not to mention presenting the band's scorching comeback album Unholy War, reissue specialists Divebomb Records have turned their attention to the middle albums from this underrated Oklahoma-based power/thrash act. 1994's Division, 1997's Destructive and 1999's Rise Above – all out of print previously – are collected on the new two-disc set titled Invictus.
Beyond having a very compelling sound that was melodic enough to satisfy power metal fans and speedy and technical enough for thrash fans, Forte's steadfastness is a big part of their appeal. When mainstream attention turned to all things alternative in the mid '90s, Forte made another killer power/thrash record in Division. When thrash bands started falling by the wayside and nu-metal took over later in the decade, Forte answered with two more uncompromisingly fast and powerful metal albums in Destructive and Rise Above. All three albums show where the band was coming from – i.e. a strong Testament and Annihilator influence – and all three sound as vital and relevant today as they did in the '90s. Sadly, the band never really broke through to the wider audience their music deserved, and they spent much of the following decade on hiatus.
Invictus features all three of Forte's '90s releases, newly remastered, plus liner notes that include lyrics, vintage photos and press clippings, plus the original album cover artwork. It's the perfect bookend to the earlier Stranger Than Fiction reissue, and the remastering (once again handled by Jamie King) alone is going to make this a worthwhile upgrade for those who already own the original releases.
Obviously a collection like Invictus is going to be of most interest to fans that are already familiar with the band, but it makes a pretty impressive introduction to Forte's sound for newcomers as well. Either way, if you're a fan of heavier power metal, thrash metal or any point in between (particularly Armored Saint, Iced Earth, Sanctuary, Forbidden and Testament), you're going to want to get your hands on this excellent collection.
Genre: Power Metal, Thrash Metal
Band:
Greg Scott (d)(k)(v)
Bill Dollins (v, Division)
David Thompson (v, Destructive and Rise Above)
Rev (b, Division)
Richard Sharp (b, Destructive and Rise Above)(k)
Jeff Scott (g)
Track Listing:
Disc 1
1. Man Against Machine
2. Fading Away
3. Ninety Nine
4. Forgiven
5. Rise Above
6. Destroyer
7. Poison Tongue
8. Burn
9. Over My Head
10. Until the End of Time
11. Barcode
12. Deviate
13. Hammer
14. Destructive
15. October
16. Heal Me
17. Strength
18. Neversleep
19. The Hard Way
20. Art of War
21. Eternal
22. Far Away
Disc 2
1. Dischord
2. One Flesh
3. Inhuman
4. Division
5. Thirteen Steps
6. Legacy of Silence
7. The Last Machine
8. Ultimatum
9. E.2.M.N.
10. Back to Zero
11. In This Life
12. Fast As a Shark (Accept cover)
Label: Divebomb Records
Website: www.facebook.com/fortemetal
Hardrock Haven rating: 9/10