FORTE's "Invictus" to be issued by DIVEBOMB RECORDS
FORTÉ was founded in Oklahoma City in 1987 and in those early stages they band played an abundant of shows quickly establishing themselves within the flourishing underground metal scene by opening for bands like PANTERA, DREAM THEATER, FATES WARNING, WATCHTOWER, OVERKILL, SAVATAGE and TROUBLE. Signing to Germany's Massacre Records the band released four critically acclaimed albums throughout the 90's and just last year released, Unholy War, their first new album in 12 years.
In 2011, Divebomb Records reissued a stunning deluxe edition of their debut, Stranger Than Fiction, yielding great results thus helping the band return to their former glory – including a coveted slot on this year's installment of the Headbangers Open Air festival in Germany. This is just the beginning for FORTÉ as work has already begun on a new album.
Divebomb Records now presents, Invictus, which is a brand new 2 CD set which features brand new cover artwork by Steven Cobb, the man responsible for their captivating Unholy War cover and collects the remaining three out of print albums (Rise Above, Destructive and Division). All 32 tracks have been newly remastered by Jamie King allowing fans to complete their FORTÉ collection in one fell swoop.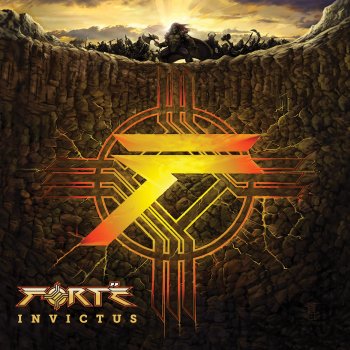 FOR FANS OF:
OVERKILL, ANNIHILATOR, TESTAMENT & JUDAS PRIEST
POINTS OF INTEREST:
+ LIMITED EDITION
+ NEW ARTWORK BY STEVEN COBB
+ COLLECTION OF THREE REMAINING OUT OF PRINT ALBUMS
+ CRITICALLY ACCLAIMED ALBUM, UNHOLY WAR, AVAILABLE NOW
+ APPEARING AT HEADBANGERS OPEN AIR (GERMANY) SUMMER 2013
+ REMASTERED BY JAMIE KING
+ LAYOUT RESTORATION BY ADAM PETERSON
TRACK LIST:
DISC 1
Rise Above
(1999)
1. Man Against Machine
2. Fading Away
3. Ninety Nine
4. Forgiven
5. Rise Above
6. Destroyer
7. Poison Tongue
8. Burn
9. Over My Head
10. Until The End Of Time
Destructive
(1997)
11. Barcode
12. Deviate
13. Hammer
14. Destructive
15. October
16. Heal Me
17. Strength
18. Neversleep
19. The Hard Way
20. Art Of War
21. Eternal
22. Far Away
DISC 2
Division
(1994)
1. Dischord
2. One Flesh
3. Inhuman
4. Division
5. Thirteen Steps
6. Legacy Of Silence
7. The Last Machine
8. Ultimatum
9. E.2.M.N.
10. Back To Zero
11. In This Life
12. Fast As A Shark