by Ron Higgins
– Columnist —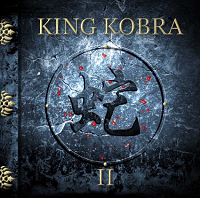 King Kobra are back again. This time, it's their release II, which is actually their 6th studio album, not their 2nd. That would be Thrill of a Lifetime, which was the follow-up to their debut album Ready to Strike, not their self-titled King Kobra album, which was actually their 5th release. It does, however, feature their 4th lead singer, and happens to be his 2nd turn at the helm, hence the II. Got it? Good. Now that we've mastered the metal math we can get down to the important stuff. Is this album any good? Let's just say it's predictable. But in a good way.
King Kobra entered the music scene back in 1985 with the release of their debut album. It featured the legendary Rod Stewart, Vanilla Fudge, Cactus drummer Carmine Appice, David Michael-Philips and Mick Sweda on guitars, Johnny Rod on bass, and a superb but relatively unknown vocalist, Mark Free. They released two sensational albums but despite their musical pedigree and touring with the likes of KISS (even concluding their shows with the members playing light-up drum sticks), they were never able to capture the massive success of some of their contemporaries. They underwent several personnel changes, including a new vocalist, Johnny Edwards, and released a poorly received 3rd album. Predictably, they broke up. Over a decade later, Carmine resurrected the band. Sort of. He was the only original member on their 2001 release Hollywood Trash. This time, Kelly Keeling of Baton Rouge was brought in as the vocalist. It didn't matter. By all accounts, the 2nd half of the album's title was pretty accurate. Another decade later, the band rose from the ashes like a phoenix once again. This time, the right way — with all original members save for Mark (now Marcie) Free, who found success in the band Signal and the very good Unruly Child. For this latest incarnation of the band, they enlisted the help of veteran Rough Cutt/Quiet Riot vocalist, Paul Shortino. As expected, it was better than the previous two releases but not quite as good as their first two. Predictably, that's exactly the same outcome for this release, which is a logical extension in both name and sound to its predecessor.
The album kicks off in fast and furious fashion with the aptly titled "Hell on Wheels". It begins with sounds of an oncoming train which is apropos because this song comes at the listener like a runaway freight train. It's one of the best songs on the album and a great way to launch this new release. The only negative is its length which, running over six minutes, is about a minute too long. It gets bogged down with its repetitiveness.
Following the crushing opener, is another album highlight, "Knock 'Em Dead." It's also an up-tempo number with blistering guitar work. It would make a great anthem for any sports team. The chorus is extremely catchy, imploring the listener, "we're gonna knock 'em dead, bust some heads, knock 'em dead." It's not overly original though invoking memories of Mötley Crüe's "Knock 'Em Dead, Kid."
Other highlights include "The Ballad of Johnny Rod," "Running Wild," and "Got It Comin'." "The Ballad of Johnny Rod" is quite interesting, starting off with the sound of an old scratchy vinyl record playing some kind of old tune with lots of horns that quickly morphs into Shortino playing the part of a man who has been thrown in a jail cell with a buddy. He says, "Ey, gimme a light, Johnny. I see they got you too. Waddaya in here for, bro? Yeah, it's going to be a loooong night." Then the music kicks in and it's full-on ZZ Top on steroids. This definitely plays to his vocal style and is a very cool, memorable track. Not bad since it's apparently named after the bass player. "Running Wild" is another great song with more production tricks, this time the sound of wild animals in the forest permeate the song. Carmine's unmistakable drum beat kicks in along with some fiery guitar work and animal growling. It's a beast to be sure. "Got It Comin'" is an entirely different animal, with a slower tempo and romantic lyrics. This is classic AOR and would've been a big hit ballad several decades ago.
The rest of the songs are decent as well, ranging from full-on rockers to slower ballads. "Have a Good Time" is a nice little party tune, complete with hand clapping and a sing-a-long chorus. It would work well as an encore song during their live shows. The video is cool too. It's shot at rock club Vamp'd in Las Vegas and features a veritable Who's Who of rock and roll including Zakk Wylde, Vinnie Paul and Ace Frehley, not to mention Ron Jeremy and Carrot Top. Now that's a party! "Take Me Back" is a slower song with a Black Crowes vibe. "When The Hammer Comes Down" is another faster-paced, Wild West song. The opening line is, "Out on the plains where the cowboys ride, if you're looking for trouble you're going to die." It's not bad but not nearly as good as the similarly named hair metal classic "Hammer Swings Down" from Babylon A.D but it's not bad and has a cool drum intro. "The Crunch" has an "Unskinny Bop" feel to it, which isn't necessarily a good thing. "Deep River" is interesting as it includes running water sound effects mixed in to accentuate a slower groove. Unfortunately, it's almost eight minutes long. King Kobra is not a prog metal band so they should probably stay away from Dream Theater length songs. "Don't Keep Me Waiting" has a cool rhythm and is a nice showcase for Paul's vocals. It has some fantastic guitar work and an artistic ending as all of the instruments stop until there's nothing left but Carmine's drums. Finally, the record wraps up with "We Go Round." This is a good mid-tempo, melodic rocker reminiscent of something Bryan Adams would do. The backing vocals are a nice touch but overall it's not too memorable. It has some unnecessary vocal noodling but does have an impressive guitar solo.
Overall, this is a very good release and a welcome addition to King Kobra's discography. Shortino's rough vocal style is quite different from Free's so it's hard to compare the two but the first two albums still stand the test of time as their best. With this release though the band has fully embraced their current vocalist, writing songs that seem to cater to his more bluesy, distinctive style. Don't be surprised to see a 3rd album with this lineup. But they already have an album called III so they'll have to come up with something witty like Strike Three. Fans of their last album will love it and fans of good old-fashioned classic hard rock will like it as well. Grab your anti-venom and enjoy 12 songs of slithering good fun because King Kobra are back!
Genre: Hard Rock
Band:
Paul Shortino – vocals
David Michael-Philips – Guitar
Mick Sweda – Guitar
Johnny Rod – Bass Guitar
Carmine Appice – drums
Track Listing:
1. Hell On Wheels
2. Knock 'Em Dead
3. Have A Good Time
4. The Ballad Of Johnny Rod
5. Take Me Back
6. When The Hammer Comes Down
7. Running Wild
8. The Crunch
9. Got It Comin'
10. Deep River
11. Don't Keep Me Waiting
12. We Go Round
Label: Frontiers Records
Website(s):
http://www.myspace.com/officialkingkobra / https://www.facebook.com/pages/Official-King-Kobra/270854497159
Hardrock Haven Rating: 8/10