by Matt Karpe
– Columnist —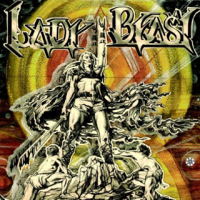 Pittsburgh heavy metal quintet Lady Beast releases their self-titled debut full of NWOBHM influences and in particular, odes to Judas Priest and Iron Maiden.
In female vocalist Deb Levine, Lady Beast has a strong diverse singer, but her best moments come when she is on full melodious form.
"Lady Beast" is the first track, and with a speed metal-like start full of pounding drumming and aggressive guitar riffs, it is a good introduction as to what this band can bring to the table. Levine's vocals are good, with rasping verses and then cleaner harmonious moments in the chorus.
"Metal Rules" is full of old school rhythms, very much in the style of Judas Priest. Levine's vocals are good, and if you even wondered (why would you?) what Rob Halford might sound like as a woman- this would be it. Lead guitarist Tommy Kinnett also contributes one of his many excellent solos to make this a highlight of Lady Beast.
"Lost Boys" is slightly slowed down but nonetheless still a heavy metal ripper, and this time Iron Maiden are brought to mind as another extended solo dominates the track blissfully.
"Armor" is a raunchier song musically, slightly aiming in the direction of '80s glam metal. It's full of energy and maybe one of the catchier songs on the album.
"Birthrite" has some good modern metal riffs and some awesome speed drumming from Adam Ramage.
"When Desire Is Stronger Than Fear", "Hot Pursuit" and "Go For The Bait" are less effective compared to what came before. It's still decent metal but the songs don't have anything outstanding and nothing that we haven't already heard before.
Closing track "Ram It Down" is a good cover of the Judas Priest classic. It's a brave song to take on but Lady Beast does a decent job in making it their own. The drumming is once more thunderous and the guitars and solos are well performed. Levine's vocals are excellent once more and this cover would surely receive strong plaudits from the godfathers who wrote it.
Lady Beast is a promising new band with bundles of talent and passion. There are a few high points on their first release, mainly in the form of the opening two tracks and "Ram It Down". Musically Tommy Kinnett and fellow guitarist Chris Tritschler are very good with their axes, and Adam Ramage is superb on drums. Bassist Greg Colaizzi blends into the background well and Deb Levine could become a future leader of the female heavy metal revival.
The problems come in the lack of diversity on the eight tracks that are on show. Most of the songs blend into one, with no memorable choruses and nothing groundbreaking.
Of course this is their first attempt, and from the passion that is evident on Lady Beast, this band isn't going away anytime soon.
Genre: Heavy Metal, NWOBHM
Band:
Deb Levine- Vocals
Tommy Kinnett- Lead Guitar
Chris Tritschler- Guitar
Greg Colaizzi- Bass
Adam Ramage- Drums
Track Listing:
1. Lady Beast
2. Metal Rules
3. Lost Boys
4. Armor
5. Birthrite
6. When Desire Is Stronger Than Fear
7. Hot Pursuit
8. Go For The Bait
9. Ram It Down
Label: Unsigned
Webpage: https://www.facebook.com/pages/Lady-Beast-Heavy-Metal/179141995430791
Hardrock Haven Rating: 6/10