by Deb Rao
– Senior Columnist —
July 12, 2013 at Vamp'd in Las Vegas, NV. —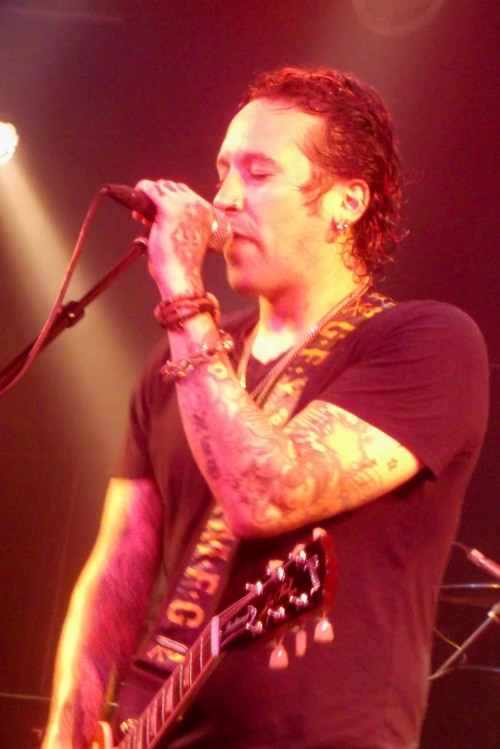 New Super group Cheap Thrill featuring Cinderella members Jeff LaBar and Eric Brittingham also featuring Troy Patrick Farrell and Brandon Gibbs made their Las Vegas debut at Vamp'd in Vegas on July 12.
Fans were treated to many Cinderella hits including "Save Me" and "Gypsy Road." Singer Brandon Gibbs who lives in Nashville vocal talent was like a breathe of fresh air. Brandon has a huge range and very melodic style. The whole unit complimented each other very well. The rhythm section of Eric Brittingham and Troy Patrick Farrell was very tight. Guitarist Jeff LaBar shined on the solos. The band also did a great rendition of "Nobody's Fool." During the set the band showcased their talent with three original songs including "Goodbye Forever," "Heavy Man" and "This Town."
Singer Brandon Gibbs has a very unique style, as the band performed a slow bluesy rendition of "Billie Jean." Sticking to the Blues, Cheap Thrill also performed songs by Stevie Wonder including "Very Superstitious" and "Living For The City."
Also Cheap Thrill's love for the '80s reigned high with the Motley Crue hit "Home Sweet Home" and an Reo Speedwagon song.
All in all, it was great to hear the new songs and Cinderella classics. I think the band has found the perfect formula for success. Demand is rising, as the band is booked heavily throughout the rest of 2013 and they will also be appearing on the Monsters Of Rock Cruise in March 2014.
Be sure to check out exclusive interview with Troy Patrick Farrell right here at Hardrock Haven.