LIVE! | Gigantour 2013: Megadeth, Black Label Society, HellYeah, Newsted
by Jonna Ambur
– Senior Photojournalist —
JULY 5, 2013 at MOHEGAN SUN ARENA in UNCASVILLE, CT —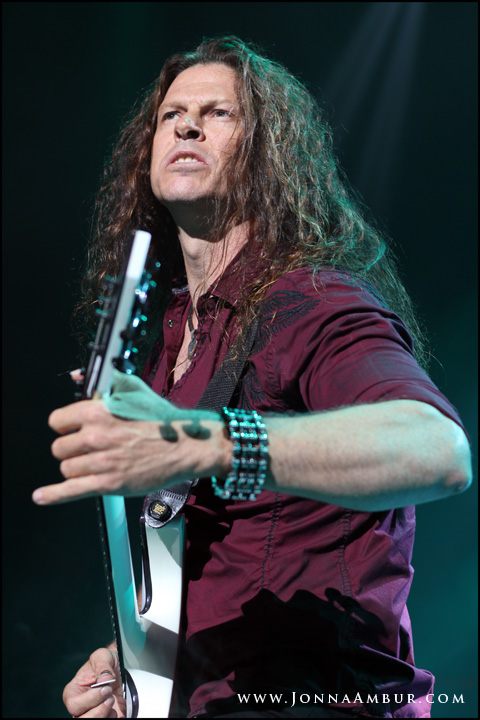 Originating in 2005 as the brainchild of Megadeth's frontman Dave Mustaine, Gigantour is an annual event that draws crowds of all ages. Wanting to put together a tour that combined bands that were positive and high energy, every year he personally chooses the bands that will perform.
2013 is the year that Megadeth is supported by Black Label Society, Device, HellYeah, Newsted and Death Division.
Megadeth is fronted by the legend, Dave Mustaine. The current lineup includes David Ellefson, Shawn Drover and Chris Broderick. Megadeth has been on the metal scene since 1983 and has produced 14 studio albums. The most recent release, Super Collider, debuted at number 6 on the Billboard charts, the highest ranking album since Youthanasia in 1994. Megadeth's history and classic heavy metal sound has led them to 2013 and there is no end in sight.
Black Label Society, featuring guitar virtuoso Zakk Wylde in conjunction with Nick Catanese, John DeServio and Chad Szeliga has 9 studio albums under their belt dating back to 1998. In 2011, BLS released The Song Remains Not The Same. Between the band's musical talents and Zakk's seductive tones, BLS kicks ass every time they perform.
Device was created by vocalist David Draiman in 2012, after his original band, Distubred went into hiatus. The band currently includes Draiman and Geno Lenardo (not involved in this tour) and touring musicians Virus and Will Hunt. Device's first studio album Device, dropped in April of 2013. Their first single, "Vilify," was a hit right out of the gate and has set the stage for a successful future for the band.
HellYeah is Chad Gray, Tom Maxwell, Vinnie Paul, Greg Tribbett and Bob Zilla. Combining such talented metal musicians is a force to be reckoned with. Together since 2006, the band released Band of Brothers in 2012. This is a band that consistently produces music that won't allow your body to remain seated at any of their shows.
Newsted, fronted by Jason Newsted of Metallica fame, was formed in late 2012 and the band is currently, Newsted, Jesus Mendez Jr, Jessie Farnsworth and Mike Mushok. Following their four-song EP released in January 2013, the band's debut album Heavy Metal Music will be released on Aug. 6, 2013. Their first track, "Heroic Dose," can be heard on their website. If the rest of the album follows suit, it's sure to be a powerful chapter in their musical history.
Death Division began in January of 2013 with Jerry Montano (previously with HellYeah). The band is currently Sean De La Tour, Tim Yeung and Rick Di Marco. Newest to the scene, not much was known about the band when they joined the tour. They are currently being managed by Justis Mustaine and are on their way to an awesome career. Anyone who attends Gigantour should get their early. Death Division might be new but they kick serious ass! Their song, "All Hope is Lost" can be heard online.
Upcoming Gigantour dates are as follows:
07/12 Dallas, TX – TBA
07/13 Lubbock, TX – Lonestar Amphitheatre
07/14 Corpus Christi, TX – Concrete Street Amphitheatre
07/16 Oklahoma City, OK – Zoo Amphitheatre
07/18 Bloomington, IL – US Cellular Coliseum
07/19 Milwaukee, WI – Eagles Ballroom
07/20 Cadott, WI – Chippewa Valley Music Festival
07/22 Winnipeg, MB – MTS Center
07/23 Calgary, AB – Stampede Corral
07/26 Edmonton, AB – Rexall Place
07/27 Dawson Creek, BC – EnCana Events Centre
07/29 Abbotsford, BC – Abbotsford Entertainment Center
07/30 Everett, WA – Comcast Arena
08/01 West Valley City, UT – Maverik Center
08/02 Denver, CO – 1st Bank Center
08/04 Fargo, ND – Scheels Arena
08/07 New York, NY – TBA
08/09 Camden, NJ – Susquehanna Bank Center
08/10 Montreal, QC – Heavy MTL
08/11 Toronto, ON – Molson Canadian Amphitheatre
Gigantour 2013: Megadeth, Black Label Society, Device, HellYeah, Newsted, Death Division Photo Gallery