LIVE! | Keel and Stephen Pearcy
by Deb Rao
– Senior Columnist —
July 18, 2013 at Southpoint Casino in Las Vegas, NV. —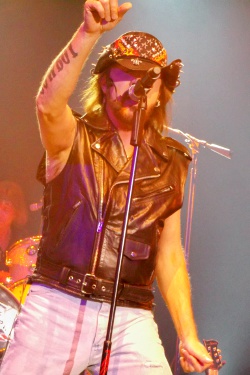 The Southpoint Casino turned into a '80s extravaganza on Thursday July 18 as special guests Keel and Stephen Pearcy took the stage. Keel made a special Las Vegas appearance and hit the stage at 8 p.m. for an enthusiastic set of rock and roll. Ron Keel, who is a great friend to Hardrock Haven played the Metal Cowboy cranking out all of Keel's hits. Ron has an amazing vocal range and showcased his talent very well tonight fans of the band came out from California and nearby Pahrump, Nev. to see the band perform this special show.
Keel rocked hard playing hits from The Final Frontier and their current album Streets Of Rock And Roll. Highlights of the set included "Tears Of Fire", and new songs "Push And Pull" and "Streets Of Rock And Roll." Keel did a dynamic job on cover "Because The Night" and have really made that song made that song their own. Ron Keel has breathed new life into the Las Vegas music scene with his radio show and Vegas Television music show Streets Of Rock And Roll, which just wrapped up his first season filmed at Club Fortune in Henderson. Keel ended the set with "The Right To Rock" and "You're The Victim I'm The Crime."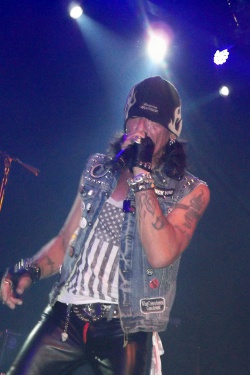 Next Up Stephen Pearcy rocked the venue with his solo band. RATT just played in Henderson in May and it was great to see him play a smaller venue. Stephen kicked off the set with "Lay It Down." The audience was ready for some Ratt and Roll. Stephen and his solo band cranked out all of the hits including "You're In Love," "Wanted Man", and "Slip Of The Lip." Stephen told the audience he was looking forward to opening for Van Halen at Rock USA. The hits kept on coming with "Back For More" and special Judas Priest cover "Heading Out To The Highway." He closed the show with "Round And Round." It is always great to see the RATT front man perform. He really brought the party vibe to Vegas tonight.
Stephen Pearcy Set List:
Lay It Down
You're In Love
Lack Of Communication
Wanted man
Slip Of The Lip
Way Cool Junior
I'm Insane
U Got It
Headed Out To The Highway
Back For More
Round And Round