LIVE! | Rockstar Energy Drink Mayhem Festival 2013: Rob Zombie, Five Finger Death Punch, Mastodon, Amon Amarth
by Jonna Ambur
– Senior Photojournalist —
JULY 21, 2013, COMCAST THEATER, HARTFORD, CT. —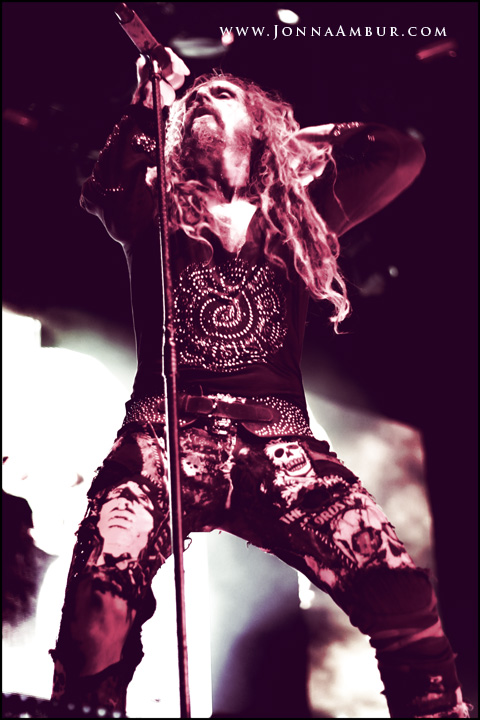 The sixth annual Rockstar Energy Drink Mayhem Festival landed in Hartford, Conn., on July 21, 2013. A sunny 90-degree day with some good, old-fashioned East Coast humidity greeted the guests as they headed through the gates. Four stages of non-stop Metal began just after high noon.
Machine Head, Job for a Cowboy, Butcher Babies, Battlecross and Huntress were featured on the Jagermeister Stage
The Musician's Exchange stage was home to Children of Bodom, Emmure, Born of Osiris, Attika 7, Motionless in White and Thrown Into Exile.
The Sumerian Records stage was set for Scorpion Child, City in the Sea and the three winners of the "Headbang for the Highway" competitions that were held statewide.
Just beyond the stages, there was a maze of sponsor and merchandise booths. Each band had its own set-up, and some, such as Thrown Into Exile and Attika 7 even made appearances to sign autographs for fans. If you kept your eyes open, you could even catch your favorite musician checking out the bands and watching the fans the pits. Chris Kael from Five Finger Death Punch paid a visit to Battlecross and Machine Head during their sets, and he shared his photos on Facebook from his point of view.
On the other side of the venue, there were a variety of vendors, discount ticket sales and the "golden gate," which was just beyond the security and was the entryway to the bands' trailers and tables for press interviews.
Most of the bands had new albums or singles to support. For example, Butcher Babies performed music from their first release, Goliath; Huntress supported its second release Starbound Beast; Emmure supported its Slave to the Game and Scorpion Child performed its newest single, "Polygon of Eyes." Attika 7's Blood of My Enemies currently is available for a free download. Motionless in White's Infamous with the single, "America" is out now. Battlecross recently released War of Will, and Thrown Into Exile released its single "Not Alone."
John Reese, Mayhem's Co-founder celebrated a birthday and was greeted by the crowd singing "Happy Birthday." Shortly thereafter, he shared information about the Metal of Honor program. Then, 10 brave United States soldiers joined him on stage to present a guitar and a salute to Jagermesiter's Hometown Hero winner, who served eight years in the U.S. Marine Corps as a staff sergeant and was joined by his Afghan-rescued dog from the Puppy Rescue Mission.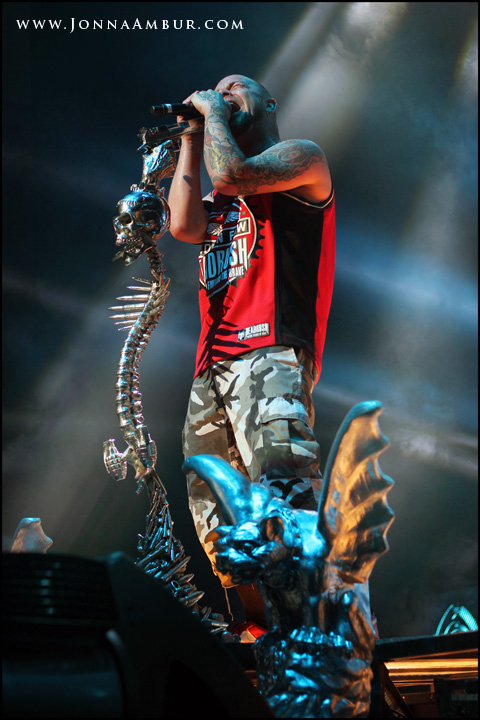 The Main Stage featured Rob Zombie, Five Finger Death Punch, Mastodon and Amon Amarth. Amon Amarth and Mastodon set the stage for the day's highlighted bands. Amon Amarth's incredible stage set and boundless energy were a great way to start the night. Mastodon followed, and while it was a calmer style of metal, it primed the audience for, what many called, the main event.
Five Finger came to the stage and made it known that they were there and ready to tear shit up. The band performed its newest single "Lift Me Up," along with other well-known hits. Mid-set, Ivan brought on stage, the "next generation," which included a group of kids who were more than happy to visit with the guys during "White Knuckles." In a poignant moment, Ivan later brought to the stage, 10 members of the U.S. National Guard. The entire band took time out to thank them for their service and paid a tribute to these brave soldiers. It was heartfelt and pure. The band finished its set to a standing applause of fans who weren't ready to say goodnight. Watch for the Volume No. 1 of the band's two-volume double album, The Wrong Side of Heaven and the Righteous Side of Hell. Volume No. 1 drops in the U.S. on July 30, 2013.
Rob Zombie was the headliner and came to the stage in all the glory of a headlining band, complete with costumes, huge stage props and movie screens and all the metal bling for which Zombie is known. Playing all the songs his fans were there to hear, the crowd belted out every word. He shared the stage for a short time with his wife, and he later introduced his daughter. This family man is a Rock god who ended Mayhem Fest on a high note for sure.
The entire day was packed with music, fun and good people who all worked together like a well-oiled machine. It's definitely a festival to check out!
The Rockstar Energy Drink Mayhem Festival is nearing the end of its tour; the last stop on the tour is Aug. 4 in Dallas.
Rockstar Energy Drink Mayhem Festival 2013 Photo Gallery
Photos appear courtesy of Jonna Ambur