LIVE! | Slash with Venrez
by Deb Rao
– Senior Columnist —
July 25, 2013 at House of Blues in Las Vegas, NV.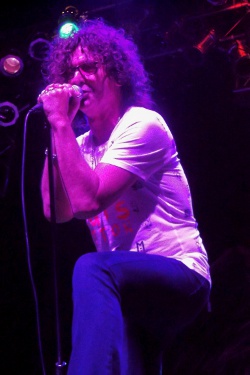 The final date of the Apocalyptic Tour featuring Slash and Myles Kennedy and The Conspirators at the House of Blues in Vegas on July 25 proved to be epic and it was only fitting that the tour end in the city of Sin.
The show also featured L.A. rock band VenRez. Lead singer Steven Berez was kind enough to give Hardrock Haven an exclusive interview earlier this month.VenRez hit the stage at 8 p.m. sharp for a great performance. Opening with "Silver" the band had a kind of Alice In Chains vibe. I really liked the hard driving groove that the band enforced throughout the entire performance. Steven Berez is a dead ringer for Howard Stern.
Highlights of the set included the title track from "Sell The Lie", and new single "Unforeseen." For a new band on the scene, VenRez has a really modern sound that stands out. The new single "Unforeseen" has a fresh cutting edge sound. Guitarist Jason Womack really knows how to shred. He told me after the show that he was really influenced by Jimi Hendrix. Fans seem really impressed with VenRez. It was great to hear what L.A. has to offer in music these days. After the show, Steven and Jason posed for photos for Hardrock Haven.
Set List:
Silver
Yesterday
Free Will
Sell The Lie
Sanctity
Karma (First single off of Sell The Lie)
Unforeseen (New single off of American Illusion)
Next up Slash performed a three-hour epic extravaganza of music. Opening with "Halo" Slash and his Conspirators performed many GNR hits plus all the Slash solo favorites. It was so great to hear "Night Train" again. One of the highlights of the set included "Civil War' where Slash took shined in the spotlight!
Slash has assembled some of the top-notch musicians including Todd Kerns on bass from Las Vegas. Todd had the opportunity to sing "Doctor Alibi" and "Welcome To The Jungle." It was an epic moment. The energy that Todd unleashed was relentless.
Also pretty impressive is the sultry vocals of Myles Kennedy. At times during the GNR songs, Miles reminded me of a young Axl Rose in his vocal delivery. Other highlights included "Anastasia", and hit song "You're A Lie." The audience went into frenzy during "Sweet Child Of Mine."
Slash and company returned to the stage with two encores including "Immigrant Song", and "Paradise City." As Paradise City" blasted from the speakers silver confetti filled the air. Tonight's show was all about guitar solos and great music. Slash is truly one of the best guitarists in music today. The performance was high driven, as every musician gave 100 percent. The show was also filmed live. It was a great end to a tour that has spanned the world. I am looking forward to 2014 and new music from Slash and The Conspirators.
Set List:
Halo
Mean Bone
Night Train
Ghost
Standing In The Sun
Back From Cali
Civil War
Bad Rain
Let It Roll
We Will Roam
Doctor Alibi – Featuring Todd Kerns
Welcome To The Jungle – featuring Todd Kerns
Rocket Queen
Serial Killer
No More Heroes
Anastasia
You're A Lie
Sweet Child Of Mine
Slither
Encore
Immigrant Song
Paradise City