LIVE! | The Flaming Lips and The Black Keys
by Lexi Baird
– Guest Columnist —
July 11, 2013 at Time Warner Cable Music Pavilion in Raleigh N.C. —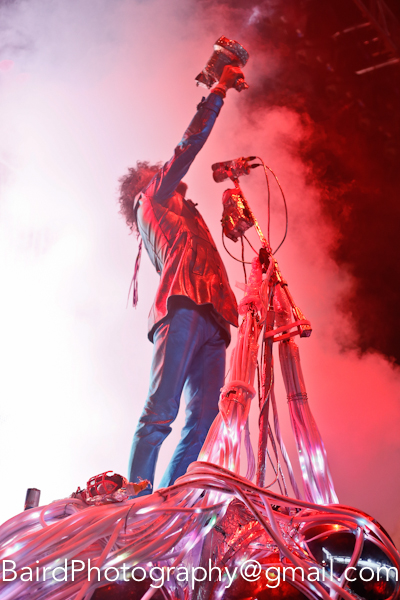 Garage Rock, a very simple, raw subgenre of rock and roll music that was originally popular in the 1960's is making another comeback. Or is it? In the early 2000's, several bands emerged from the underground whose sound had a strong resemblance and influence of "Garage Rock" music, and one of those bands had a visit to Raleigh, North Carolina on Thursday night.
Starting out the show were the Flaming Lips, an alternative-rock band from Oklahoma City, known for their spacey/psychedelic rock sound and their unique and bizarre live show. Opening with new songs like "The Terror" and "Look… The Sun Is Rising" in support of their most recent release The Terror. In addition to the newer songs, they played a collection of older songs like "The W.A.N.D." and a cover of David Bowie's "Heroes."
Even as the rain continued to come down during their set, they kept the crowd entertained with lead singer Wayne Coyne's stage dialogue and no shortage of an unusual show. Full of hypnotizing visuals, lasers, smoke, and a fake baby, they had everyone talking even after they left the stage.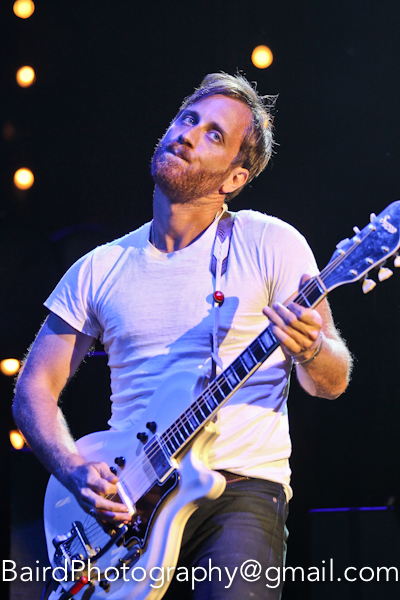 After removing the extravagant set-up left by the Lips, guitarist and front man Dan Auerbach and drummer Patrick Carney took center stage as the blues-rock pairing, The Black Keys. Hailing from Akron, Ohio, the Keys began as an underground indie/garage-rock band up until the release of 2010's Brothers, the album bringing them very sudden commercial success, and winning them three Grammy Awards. Their seventh album El Camino released in 2011 pushed their success even further, and with singles like "Lonely Boy" and "Gold On The Ceiling," the duo has proved that their raw, rock and roll sound is here to stay.
Opening their set with the single "Howlin' For You" and closing with the catchy "Lonely Boy," they had the whole venue dancing and singing along from beginning to end. Dan's gritty, distorted guitar riffs over Patrick's thumping rhythm made for a rich combination. In addition to Carney and Auerbach, they had keyboard player John Wood and bass player Gus Seyffert to add to the sound for a selection of songs. Keeping it simple is something the Keys are no stranger of, and they had no need for over-the-top effects charm the crowd.
The Flaming Lips and The Black Keys Photo Gallery
Photos appear courtesy of Chris Baird