by Deb Rao
– Senior Columnist —
July 4th At Fremont Street Experience in Las Vegas, NV. —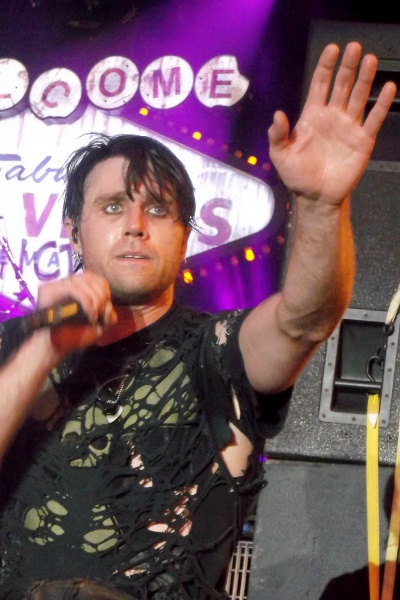 What better way to spend July 4th than in Las Vegas at the Fremont Street Experience with Three Days Grace? The week also sparked the return of the UFC fights to the area. Special treat was seeing UFC fighter Chris Weidman introduce the band onstage.
The packed venue heated up as temperatures soared to 117 degrees as Three Days Grace hit the stage with a vengeance. This was my first time seeing the band with new singer Mark Walst. Last time I saw the band was in Ohio at Rock On The Range a few years back. I have to say I was really impressed with the energy that Mark enthuses. He takes the band to a new fresh level.
The momentum spiked as the band performed the hard driving "Pain." To top things off, fans were treated to a spectacular pyro show from the band. As flames lit up the sky throughout the entire set.
It didn't take long for the mosh pits and hysteria to commence. As the singer encouraged everyone to jump on "Break." Highlight of the set was new material "Misery Loves My Company," "I Hate Everything About You" and "Animal I Have Become." Three Days Grace are huge on lyrics. At any given time the band can go from a melodic moment to complete pandemonium. Everyone gave 100 percent as a band. They were pretty impressive as a unit. The tail end ended on a high note with "Never To Late", and "Riot." After the show the band took time to sigh autographs. This year July 4th paid tribute to all of our fallen heroes and armed forces plus a great free concert. This is why America is so great. Everyone came together for a good time and stood strong.
Special Thanks to Megan from Fremont Street Experience for making this review possible.
Three Days Grace Set List:
Chalk Outline
Just Like You
Pain
The High Road
Get Out Alive
Break
The Good Life
Misery Loves My Company
World So Cold
I Hate Everything About You
Animal I Have Become
Never To Late
Riot