LIVE! | ZZ Top with Ben Miller Band
by Alissa Ordabai
– Senior Columnist —
June 24, 2013 at the Hammersmith Apollo in London, United Kingdom —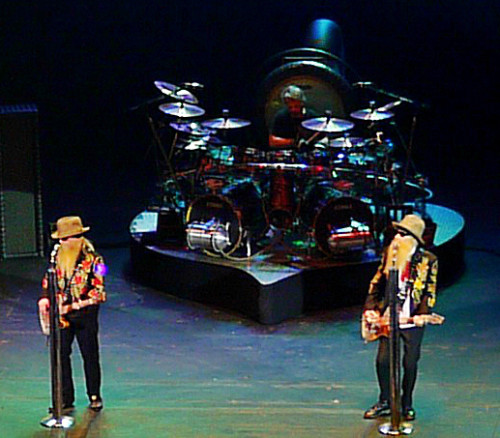 There is a craftier reason — beyond the obvious — why RIAA certification categories are named gold and platinum. A hit song, as was proven again tonight, remains the most lasting capital in popular music. And ZZ Top know how to keep harvesting their three-decade-old chart-busters. 5000-capacity Hammersmith Apollo sang along and clapped to "Sharp Dressed Man" and "Legs" like a crowd possessed — something you don't see in London that often, no matter who the band is. Tickets were 45 pounds (about USD 70) through the box office, but scalpers began stalking the perimeter of the venue hours before the sold-out show.
But those who snapped up the tickets weren't just the band's age-mates wanting to relive the days when the grass was greener, beer – sweeter, and women – friendlier. There were kids and students here tonight, as well as those who first saw the band back in 1980 on its first ever London date at the same venue. Apparently, blues mixed with hard rock remains an unbeatable recipe to this day – a magic formula and a youth elixir of a sort, at least to the band.
The iconic beards making it impossible to tell how old Billy Gibbons and Dusty Hill really are, ZZ Top remains the most steadfast constant in the world of rock, visually as well as musically. The rhinestone-encrusted jackets both wore on the night looked so organic, it felt like they were born in them. During his mid-set banter Gibbons, however, shared that the jackets were brand new and told a joke about wearing a jacket to a farmers' convention while representing Hollywood. The punch line to the question if there are any farmers in Hollywood was flashing what looked like a jumbo joint to the delighted audience.
But self-irony remains one of the greatest things about ZZ Top. At one point tonight Gibbons casually described the band's music as "the same three chords," a self-depreciating joke only the most successful can afford. Although when it actually comes to hearing those proverbial three cords, you don't care how many of them there are. All you feel is the melody and the hypnotic groove. And speaking of the groove, their latest album La Futura shows that the gold-making formula found 45 years ago remains imperishable.
Propelled by the laconic strut of the rhythm section, Gibbon's unhurried, sizzling leads go straight for the gut, and to this day stay completely exotic to the English crowds, as no Englishman had ever managed to cop this gritty, dirty, earthy sound of the American South. A Jimi Hendrix he isn't – as was confirmed by the tied-to-the-ground version of "Foxy Lady" this evening – but when it comes to minimalist virtuosity of magnetic, raunchy solos, ZZ Top are second to none.
Speaking of the American South, tonight's support trio Ben Miller Band has been flown in shortly after being accidentally discovered by the headliners. Hailing from Joplin, Missouri, this extraordinary outfit mixes blues, bluegrass, and Appalachian mountain music in a completely authentic (if not archaic) vision of the American roots culture while giving it a modern twist.
With instruments ranging from guitar and banjo to one-string washtub bass, electric spoons, and washboard, they emphasize loyalty to their heritage, but at the same time don't exploit or trivialise it. Tonight their 40-minute set ranged from rough-hewn, spirited blues to a sped-up banjo version of "The House of Rising Sun" that the crowd loved so much, it sang along to it. Although everyone stayed speechless during the psychedelic frenzy of an electric spoons solo – a far-out number and a reminder that no genre can these days claim its sanctitude from the omnipresent stamp of Woodstock.
But keeping the age-old tradition afloat and still knowing how to have fun with it is what the two bands have in common. The headliners' brand of blues-rock may have had pop gloss poured all over it at the peak of their MTV fame, but seeing them live reveals how deeply their inner truth in connected to blues in its rawest, purest form.
Set List:
1. Got Me under Pressure
2. Waitin' for the Bus
3. Jesus Just Left Chicago
4. Gimme All Your Lovin'
5. Pincushion
6. I Gotsta Get Paid
7. Flyin' High
8. Heartache in Blue
9. Certified Blues
10. Foxy Lady (Jimi Hendrix cover)
11. My Head's in Mississippi
12. Chartreuse
13. Sharp Dressed Man
14. Legs
Encore:
1. Tube Snake Boogie
2. La Grange / Sloppy Drunk / Bar-B-Q
3. Tush