Markus Allen Christopher | Hard Rock 101
by Derric Miller
– Managing Editor —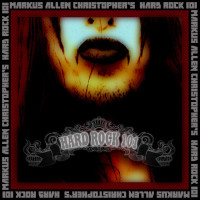 The man behind Miss Crazy (and a few other bands, like Freakshow with Jeff LeBar, Tony Franklin and Frankie Banali), Markus Allen Christopher, is back at it with a solo effort aptly called Hard Rock 101. If there's anyone producing no frills, straight up kick ass Hard Rock over the past decade, Christopher needs to lead or be a major part of that conversation.
The Led Zeppelin-inspired "I Want Love" greets you at the onset, a thumping, groovy, sort of menacing composition. When he sings "I want love … you're gonna give it to me," that's a slab of macho bravado coming your way. While simplistic, it's one of the catchiest songs on the release and a smart way to set things on fire.
If you don't hear some Stone Temple Pilots nuances in "My Everything" then you are not listening. The alternative sounding track is not something typical you'd hear from his other projects, like Miss Crazy, but it lets the fans know that his vocal toolkit is diverse, and he can sing pretty much any style he damn well pleases.
"Moonchild" is an acoustic rocker, and whether he's trying to or not, there's a Led Zeppelin energy to it again, although updated and not "classic" based. Say a mellow Blackie Lawless, Great White and Zeppelin decided to write a song together, it'd be "Moonchild."
By the time you hit "Hello" you are waiting for the classic Miss Crazy sound, and lo and behold, here it is. "Hello" is arena rock, a pumping anthem with a quirky, bubbly riff.
Christopher goes back to the moodier edge on "Baby Girl," and its leaden pace makes you wish for a heavier vibe, like "Hail Bruce Lee" from the most recent Miss Crazy release. (That's probably unfair since that's perhaps the best Miss Crazy song ever, though.)
The brief album wraps up on "Fire," a breakneck screamer that encompasses everything awesome about a Markus Allen Christopher composition. Screams, shredding vocals, anger and menace, all wrapped in a cocoon of sing-along melody. Perfect start, perfect end to Hard Rock 101.
The good news for fans is that Miss Crazy just inked a deal with HIGHVOLMUSIC. The label will re-release their prior album Grip with a bonus track, and new music is on the way in September. Hard Rock 101 can hold you over until then, but look out for big things from Markus and the gang for the rest of 2013.
Genre: Hard Rock
Band:
Markus Allen Christopher — lead vocals, guitar, drums
Gary Paavola — guitar, drums, vocals
Jim Tourtillott — bass guitar, vocals
Track listing:
I Want Love
My Everything
Moonchild
On My Knees
Hello
Baby Girl
Hiding From The Ghost
Fire
Online: www.facebook.com/markusallenchristopher
Hardrock Haven rating: 8.2/10