by Matt Karpe
– Columnist —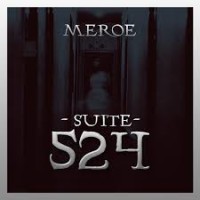 German hard rockers Meroe deliver their second album within a year with Suite 524.
Opener "I Am" is a decent start, with some good hard rock riffs and a decent solo from Alex Kah. Vocalist Oli Monroe's raspy voice is pretty strong and at times his harmonious moments are Bruce Dickinson-esque, if not quite at the same level.
"Born To Rock" is a steady flowing rock number reminiscent of fellow countrymen Scorpions and "Two Of A Kind" contains some pretty good guitar work and stick hitting from Tom Wagner. Otherwise, "Two Of A Kind" is a pretty punchless track.
Ballad "My Heart Is Bleeding" contains acoustic guitar for the verses, which works well until a fruitless chorus hampers proceedings; unfortunately a re-occurring theme on Suite 524.
Thankfully "Crazy" begins a small rallying cry. A good '80s glam metal tinged song which brings classic Crüe and Skid Row to mind, as some fast drumming is accompanied by sleazy guitar rhythms that makes "Crazy" rough and ragged, yet melodic and catchy.
"Wink Of An Eye" is another fast pacer which just tops two minutes in length. Musically it is good- a small alternative interlude you could say.
"Puppet On A String" is another good song, full of melody and glam influence but let down slightly by a one line chorus followed by a number of 'La la laaas' which comes across slightly amateur.
Again the album picks ups with standout track "Die Like A Man." From the first thirty seconds, it is evident that the production is better on here than on any other song, and a lot more experimental. There are some electronic samples, dark chugging guitars that are continuous but addictive to hear, small piano tones and Monroe's best vocal performance. At five minutes long, it's the best thing you will hear on Suite 524, and leaves you wishing there was more like this included.
"Dream On" is another simple ineffective song, and closer "Blood Red Sky" has a psychedelic intro that soon transforms into decent power metal with thrashing drum work from Wagner.
Meroe have tried to make a modern hard rock album, which in places has been done, but Suite 524 falls short in many ways.
Lyrically there are too many instances where words seem to have been fit in because they either rhyme or there just isn't anything else to complete the sentence. "My Heart Is Bleeding" has some decent ballad-like verses, but the chorus dampens the song, and it is not the only track like this. Also there are a few too many songs that Meroe has played safe on, which lack energy and bite to engage the listener.
The positives are on the tracks "Crazy" and "Die Like A Man" where Meroe prove they have some diversity in their arsenal. Guitarist Alex Kah and Tom Wagner on drums show some good talent, but unfortunately even they cannot save an album that shows brief promise, but not enough quality.
Genre Hard Rock, Metal
Band:
Oli Monroe- Vocals
Alex Kal- Guitar
Tom Schill- Bass
Tom Wagner- Drums
Track Listing:
1. I Am
2. Born To Rock
3. Two Of A Kind
4. My Heart Is Bleeding
5. Crazy
6. Wink Of An Eye
7. Puppet On A String
8. Die Like A Man
9. Dream On
10. Blood Red Sky
Label: Independent
Webpage: www.meroe.de
Hardrock Haven rating: 5/10