Pat Travers Band | Can Do
by Joe Mis
– Senior Columnist —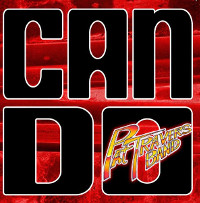 Veteran rocker Pat Travers has had a storied career over the last 3 decades, and his latest release entitled Can Do shows that he hasn't lost a step. The Canadian guitarist/vocalist started as a straight up hard rock musician, then drifted into softer rock and blues rock, but now after signing with Frontiers Records he has returned to his roots and released a hard rock gem. Can Do would not have been out of place 30 years ago, and stands as a solid late 70s, early 80s-style album recorded with modern touches and flourishes.
Pat's veteran skills are quite evident not only in his own performances, but also in the band he has built. Travers has really pulled out all the stops for this release – his guitars are amazing as one would expect, but his voice is also in top form and he has written some of the finest songs of his career. Not sticking to a "pure" genre, the tracks on this release run from blues rock to commercial rock to whatever you would call a cover of an old Eurythmics tune. Backing him are long time collaborators: second guitarist Kirk McKim, bassist Rodney O'Quinn, and drummer Sandy Gennaro – all well-traveled and experienced. The band's teamwork is tight and effective, and the modern engineering helps to enhance their sound while retaining the warmth and roughness one would expect from an old hard rock record.
Massive guitar hooks open the album and make "Can Do" a standout. Pat's vocals are spot on and the band is tight and precise behind him. The twin guitar attack and outro licks are 80's perfection, and this track will have anyone toe-tapping along. The only flaw seems to be a relatively harsh mix on the drums. Great guitar fills and a titanic blues overtone highlight "Stand Up," and Pat really puts 100% into the gritty vocals – tons of raw attitude here. "Diamond Girl" is change of pace – an upbeat rock ballad with a smooth rhythm line that borders on commercial-pop territory. Hard rock returns on "I'm With You." Travers does a nice job with the slide guitar and a slick solo, and the whole band delivers solid backing vocals. Pat pulls out a ton of effects pedals on the hard rocking "Long Time Gone" – an old-school arena rocker if there was ever one. "Wanted (That Was Then, This Is Now)" is a modern Bon Jovi-esque slow rocker with well-written, heartfelt lyrics.
"Armed & Dangerous" is a bit of Southern rock, funk hotness with a great bass and drum line backing gritty vocals and bluesy guitars – a genuinely fun track. Big rubber-band bass drives the very unexpected but effective cover of the Eurythmics' "Here Comes The Rain Again" – an interesting choice that seems like it shouldn't work for the band but somehow does. The heavy instrumental "Keep Calm & Carry On" has a bit of an R&B feel to it, thanks to the slick, smokin' hot guitars, driving bass and intricate drums. Bubbling bass drives the very Southern sounding "Dust & Bone," a track that features the most engaging riffs on the album. "Waitin' On The End Of Time" brings a surprising smoothness to the fore, blending slower (yet intense) rock with a bit of the blues and a touch of funk, all delivered with enthusiasm and fire. The CD wraps with a very bluesy "Red Neck Boogie." This track is hard driving party track – as old school as can be, and lots of fun.
Can Do is a solid rock release blending the old with the new. Pat Travers has proven the old adage to be false – you CAN teach old dogs new tricks, and do it without changing their fundamental identities. Old style rock music with modern flair is not the easiest thing to pull off especially for a musician with such a long career, but the Pat Travers Band does it without sounding like they are simply reliving past history. With fresh tunes and a great attitude Travers and his band are rockers through and through, keeping one foot in the past while stepping towards the future. Highly recommended!
Genre: Hard Rock
Band:
Pat Travers (guitar, vocals)
Kirk McKim (guitar)
Rodney O'Quinn (bass)
Sandy Gennaro (drums)
Track Listing:
1. Can Do
2. Stand Up
3. Diamond Girl
4. I'm With You
5. Long Time Gone
6. Wanted (That Was Then, This Is Now)
7. Armed And Dangerous
8. Here Comes The Rain Again
9. Keep Calm & Carry On
10. Dust & Bone
11. Waitin' On The End Of Time
12. Red Neck Boogie
Label: Frontiers Records
Website: http://www.pattravers.com/
Hardrock Haven rating: 8/10