Prey On The Fallen | Prey on the Fallen
by Mark Allen
– Senior Columnist —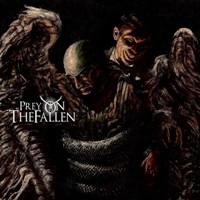 Been praying for relief from all the Cookie Monster growls, larynx-bleeding screams, and brutal breakdowns that dominate the modern metal scene? Not that there's anything wrong with that particular style—different strokes for different folks, after all—but sometimes you crave a band that sounds both refreshingly retro and yet as current as the latest iPhone. It's a tough balance to strike, but Prey On The Fallen (POTF) have struck it, nailed it, and made it their own by taking that classic metal sound and giving it a contemporary spin.
This is definitely not the same old thing … which is a good thing. Uniqueness is as undervalued in today's rock music industry as intelligence in a Michael Bay movie. It's not so much that POTF have invented a new sound or generated a new genre; instead, they have taken the oldschool metal sound of bands like Iron Maiden and grafted them onto the power and energy of today's metal aesthetics. In other words, the only reason this sounds current is because of the production/engineering; in terms of guitar work, riffs, singing, and song structure, this is throwback metal. This is the kind of stuff that aging headbangers can proudly stand behind, but doesn't sound so dated that it will be shunned by the so-called "cool kids" like a tobacco company executive at a lung cancer survivor convention.
The album sounds strong and supercharged. Some of the credit must be given to producer Ryan Greene (Megadeth) who gives it the proper muscle while allowing the dynamics room to breathe rather than compressing them into a noisy sludge, but the bulk of the credit belongs to the musicians themselves. The guitars pack a punch, the vocalist has that sing-shout delivery down pat, the drums hit like sonic sledgehammers, and most of the songs are imbued with metal catchiness as opposed to commercial slickness. There is no danger of being lulled to sleep while listing to this, because this album kicks enough ass to force you to head-bang even if you have tripled up on Valium, Ambien, and tequila. There are a plethora of adjectives you can use to describe POTF … somnambulant is not one of them.
The most interesting thing the band does on this debut is cover The Eagles' "Hotel California." And before you ask, the answer is no, it's not very good … it's freakin' awesome. POTF have taken a classic rock song and cranked it into a gritty heavy metal track and if this doesn't put the band on the map, then the metal gods must be taking a nap. Hands down one of the best cover songs you'll ever hear and clearly POTF's magnum opus moment.
That being said, there are some other smoking tunes here as well. "Vultures to Flesh" is the epitome of a badass heavy metal anthem, slamming out ferocious grooves with a menacing edge. More headbanging will be induced by "Creed to the Greed" courtesy of its pounding rhythms, gang vocal shouts, and fist-pumping chorus. The band even dares to save one of the best for last, closing the album on a high note with "War," which is all raging riffs and blistering guitars and whiplash tempos.
Prey On The Fallen should not remain indie for long. Their heavy-hitting remake of "Hotel California" alone should ensure plenty of positive attention from metal fans and label execs alike. Seriously, release that track as the next single and watch it chomp its way up the charts. But while that may be the album highlight, there is precious little on this debut to complain about. It's classic, hard rocking heavy metal for the 21st century.
Genre: Heavy Metal
Band:
Kurt Loun (lead vocals)
Mark Bouras (guitar)
John Guy (bass)
Mike Ikona (drums, percussion)
Track Listing
1. Prey on the Fallen
2. Sherman's March
3. Complete Hypocrisy
4. Last Breath
5. Vultures to Flesh
6. Present Time
7. Hotel California (The Eagles cover)
8. Chain Reaction
9. Creed to the Greed
10. War
Label: Independent
Webpage: www.facebook.com/PreyOnTheFallen
Hardrock Haven rating: 8.5/10