by Matt Karpe
– Columnist —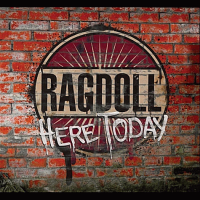 Australian trio Ragdoll's second EP Here Today picks up where their promising debut release left off- with explosive and fascinating melodic hard rock.
Starting off, title track "Here Today" is a gigantic hard rock anthem. Guitarist Leon Todd's excellent modern rock riffs are accompanied by some pulsating drumming from Cam Barrett. Vocalist and bassist Ryan Lafferty has a good diverse vocal range, as his rough and ragged singing on the verses make way for some strong, melodic and in places, classic rock style tones on the chorus. The chorus itself is catchy and contagious and it leaves you singing along upon the very first listen.
"Tell Me" has some funk laden hard riffing, bringing to mind early Audioslave, and with some more good drumming and another memorable chorus, it's a close contender for the EP's standout track.
"Could It Be Love" is, as the title suggests- a slow ballad. A soft consistent drum beat entwines with some subtle guitar playing from Todd, and although of slow tempo, Lafferty's vocals are strong and dominating- definitely a good thing.
"Heaven Above" is a seven minute case study showing just how far Ragdoll have progressed in such a short space of time. A funky bass line is evident before some crunching guitar riffs take control. Barrett's drumming is hard and fast and some of his best on the album. We have to return the focus to Leon Todd though, as his guitar work is simply astonishing- in the last half of the song especially. It's guitar solo galore as he takes center stage to let rip all kinds of effects and distortions. It feels like he is playing live to an audience in between songs, just playing whatever his head and heart tells him, and it's brilliant.
"Overnight Sensation" ends the EP with some blues influenced rock, slightly tinged with sleazy glam rock, but again, Ragdoll pull it off with another good chorus.
It isn't often a five track release amazes and stuns, but Ragdoll have done just that with Here Today. They have come such a long way since their first EP, with the production and song writing being so much more polished. There is good variation in the tracks, and great musicianship between the three band members.
This early into their career, Ragdoll have already set the bar so incredibly high, and from what's on show on Here Today, Ragdoll will be HERE for a very long time.
Genre: Melodic Hard Rock
Band:
Ryan Lafferty- Vocals/Bass
Leon Todd- Guitars
Cam Barrett- Drums
Track Listing:
1. Here Today
2. Tell Me
3. Could It Be Love
4. Heaven Above
5. Overnight Sensation
Record Label: Beautiful Disaster Records
Website: www.ragdollrock.com
Hardrock Haven Rating: 9/10