by Jenn Carbaugh
– Columnist —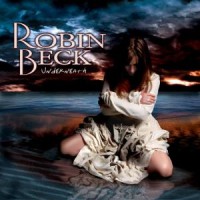 Robin Beck is full of surprises with her new album Underneath. She allowed for some new writers to submit material to her this time. It was a great decision on her part, because she was "blown away" by what she found. In addition to her, Denander and Christian as a writing team, she has added Glen Burtnik, Barry Jay and Fiona. This combination seems to be doing quite well for this rock and roll woman.
This album can also be considered somewhat of a family affair. Her husband and daughter also are a part of this album. Her husband, James Christian, is producing this album and duets with her on "Burnin' Me Down." Her daughter, Liv Beck, also does some vocal work on this album. They seem to be a musical family, and that works in Robin Beck's favor. This album is definitely going to make an impact for female musicians everywhere, because of the prominent female voice that keeps staying alive in rock music today.
Beck wrote her first song at the age of 10, and her continuous growth and ambition has shone through with this album. Each song packs a punch of good vocal range and music that follows the lead.
The album starts with "Wrecking Ball" and the title does the song justice. There is a riff that starts the track off with a build of energy. There is definitely a foot-tapping pattern that quickly develops with this album.
Outbursts of finger drumming are something that is a must when listening to this album. There are songs that really make typical anthems seem humdrum. Many of the songs have a call to action type of feel, so they evoke oomph immediately. "Sprain" is a great example of an action-bringing song.
Some of these songs have a bit of a country meets rock feeling, but that isn't a bad thing. It works well for this album. The '80s can be heard in her voice and the guitar riffs as well, but it seems to work. There is a unique sound with her voice that doesn't sound like every other angry female-fronted band on the radio. There are a variety of sounds to look forward to on this album. "I Swear the Nights" is soulful and sultry, but it keeps the rock factor easily. It works so well and sounds so right.
The collaboration that takes place on this album was an amazing decision on Beck's part. The music, the vocals, and the lyrics work so well with each other. This album has very little dull moments and is refreshing in a summer riddled with breakup songs and furious female vocalists.
Genre: AOR, Melodic Rock
Band:
Robin Beck – vocals
Fiona, Liv Beck, James Christian – back-up vocals
James Christian, Jimi Bell, Glen Burtnik, Tommy Denander – guitar
James Christian – bass
Jeff Batter, James Christian – keyboard
BJ Zampa – drums
Track Listing:
01. Wrecking Ball
02. Ain't That Just Like Love
03. Sprain
04. Underneath
05. Catfight
06. Check Your Attitude
07. Burnin' Me Down
08. Perfect Storm
09. Ya Can't Fight Love
10. I Swear The Nights
11. Follow You
Label: HMMR Records/Cargo Records
Website: http://www.robinbeckrocks.com/
Hardrock Haven Rating: 8/10