by Matt Karpe
– Columnist —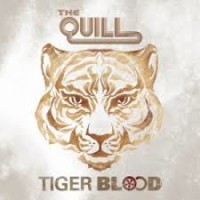 Swedish four-piece The Quill return with their stoner/southern influenced hard rock for latest release Tiger Blood.
Back in the fold is original member Roger Nilsson, who returns to bass duties after seven years away, and he joins ex-Hanoi Rocks man Jolle Atlagic on drums, Christian Carlsson on guitars and Magz Arnar on vocals.
"Freak Parade" starts off with a strong drum intro and bluesy guitar riffs, and with Arnar's melodic vocals and the odd shriek, the song is very reminiscent of Queens Of The Stone Age at their best.
"Go Crazy" contains more blues like riffs, and although slightly slowed down, it is still a good modern hard rock song, though not fitting of the stoner tag that the band carry.
"Getaway" has an intriguing intro. The raunchy guitar work is in the mould of Led Zeppelin, and even Arnar's vocals have a Robert Plant feel to them at times. Atlagic's drumming is especially energetic- one of his better performances on Tiger Blood.
"Greed Machine" explodes into action with some thrashing drumming and rasping guitar tones. Carlsson also performs a good solo half way through, showing off his skills on the six-string.
"Purgatory Hill" is the most interesting and original track on the album, and a step away from the hard rock that preceded it. A string arrangement begins the song and plays out in the background throughout, a thumping drumbeat is performed with great control, and Carlsson is happy to be left out of the spotlight as his guitar work is quietened down and barely audible. All these performances add to the atmospherics of the song, and it's the kind of thing you can imagine hearing during a scene of a Western movie. Arnar sounds like a great storyteller as his deep vocals captivate on a very intriguing song.
"Land Of Gold And Honey" is a simple acoustic song, delicately played, but it feels more like an interlude, before "Darkest Moon" arrives to steal the show.
The pace picks up again with some funky guitar work and it contains the most melodic and catchy chorus you will hear on the whole album. The vocals are similar to the great Chris Cornell- rasping and infectious. Simply excellent. The song is a definite aim at the mainstream, but that isn't a bad thing because "Darkest Moon" is a great song.
"Sweet Rush" another highlight and in the same format as "Darkest Moon"; containing another top quality sing-a-long chorus.
"Storm Before The Calm" ends the album with a ballad, as delicate guitar rhythms and soft calmed down drumming plays through the slightly over-long six and a half mintutes. Carlsson performs his best guitar solo here, a mesmerising extensive show stealer that just about makes this long track a success.
The Quill has been around a while, and maybe they have recorded better albums before, but Tiger Blood is still a pretty good listen.
While there isn't as much stoner and southern rock influence on here, there are still some great moments and quality tracks. There is a good mix of hard rock and post-grunge alternative metal, and "Purgatory Hill" is a fantastic surprise addition to the track listing.
Diehard fans should be content, but maybe new listeners will be the most appreciative of Tiger Blood.
Genre: Stoner, Southern Rock, Hard Rock, Alternative Metal
Band:
Magz Arnar- Vocals
Jolle Atlagic- Drums
Roger Nilsson- Bass
Christian Carlsson- Guitar
Track Listing:
1. Freak Parade
2. Go Crazy
3. Death Valley
4. Getaway
5. Greed Machine
6. Purgatory Hill
7. Land Of Gold And Honey
8. Darkest Moon
9. Sweet Rush
10. Storm Before The Calm
Record Label: Metalville
Webpage: www.thequill.se
Hardrock Haven Rating: 7.5/10