These Hearts | Yours To Take
by Mark Allen
– Senior Columnist —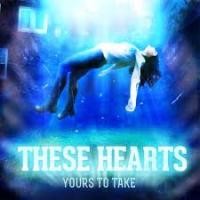 It's called pop-core. Take the sugary hooks and squeaky-clean vocals of bands like Blink 182, merge them with the growls, screams, and breakdowns of hardcore, and presto, you've got yourself a nice, shiny, pre-packaged subgenre to sell to the masses. Sort of like melodic metal-core, but with more of a pop-punk flavor.
These Hearts exhibit a slick knowledge of what works within the pop-core format. Granted, this kind of thing will not find credibility with all headbangers, but fans who flock to this kind of stuff should find enough value in Yours To Take to justify plopping down their hard-earned pennies. It's certainly better than their debut full-length which was reviled by critics and patrons alike. Seriously, the dogs in Michael Vick's fighting circuit took less abuse than These Hearts did over that debut.
Thankfully, the band did not let the sometimes-cruel criticism crush them and came back better than ever. They learned from their mistakes, so this new album avoids most of the pitfalls that polluted their previous project. Borrowing a page from A Day To Remember, they have crafted a heavy, bouncy, energetic record that probably won't set the charts on fire but could certainly net them some new fans. This is one of those albums that lack those "OMG!" songs, but neither do any of the songs make you think, "POS."
The band has some serious chops, but sometimes the pop-punk elements seem to clash with the hardcore components. Mash-up metal is frequently an odd beast and putting pop-punk sing-along choruses on top of crushing "-core" music might just be one of the oddest. One minute These Hearts are laying down some chugging riffs and growling like Beelzebub with hunger pangs; the next they're belting out a hooky chorus with nasally-clean vocals that seem better suited to the next Green Day disc.
Luckily, it's easy to tell if this album is for you or not—just listen to the first song, "This is Love." With its brutal bass heaviness, thick riffs, throaty growls, gang vocals, and cleanly catchy chorus, the track is a perfect encapsulation of everything These Heart is about. Hate this first song and you'll hate the rest of the album; like this tune and you'll pretty much like them all.
These are tough times for any band throwing their hat—or guitars, drums, microphones—into the mega-bloated "core" metal genre. These Hearts have not yet evolved to the point where they deserve to ascend to the pinnacle of the pop-core pile, but they have shown such drastic improvement between albums that they definitely deserve another shot. As long as you expect "good" and "solid" rather than "great" and "awesome," you shouldn't be disappointed.
Genre: Pop-Core
Band:
Ryan Saunders (vocals)
Isaiah Folk (drums)
Daryl Van Beek (guitar)
Kyle Colby (guitar)
Tyler Rice (bass)
Track Listing
1. This is Love (feat. Bert Poncet)
2. The Inconvenience
3. Psycho
4. Miserable
5. Been Through Hell
6. Last Man Alive
7. Birds of a Feather
8. Undecided Story
9. War (feat. Mattie Montgomery)
10. LOTR
11. Never Mind Me
Webpage: www.facebook.com/thesehearts
Label: Victory Records
Hardrock Haven rating: 7/10