Toby Knapp | Static Warfare
by John Kindred
– Publisher —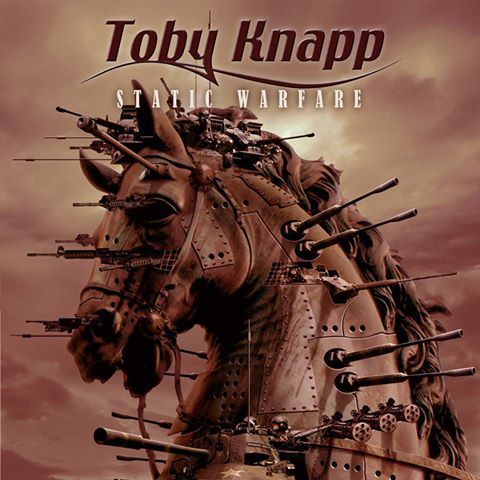 Toby Knapp's follow up to 2010's The Campaign has been three years in the making. That doesn't mean Knapp was holed up in a studio for three years, but life had reared its ugly head, causing Knapp to re-evaluate his situation as a musician and a person. With his personal demons bubbling toward the surface, he left Wyoming with a suitcase in hand and headed for New York, where his close friends live. Putting his gear in storage, he settled in at a new job and began to evaluate his life. After a year, his quest to bring his old band, Onward, back into the fold began; however, he sadly found out original vocalist Michael Grant was terminally ill. Out of respect, after Grant's death, Knapp decided against resurrecting Onward. Struck by this stunning loss of his friend, Knapp's music career continued its hiatus.
After two years, Knapp returned to Wyoming a different person than when he had left. Acquiring a new confidence, which came from acquiring skills outside of music, the desire to write again returned. Dusting off the old gear led to the creation of new music and, eventually, led to the phone call to Shredguy Records, telling them that it was time to record again.
Knapp's latest studio album titled Static Warfare originally was to have an uplifting feel, like an Eric Johnson album. But the nine-track affair falls back in line with Knapp's aggressive, dark riffs. Maybe it's a musical expelling of those old demons because it's heavy and angry. Knapp continues to explore diverse compositions that move through several genres. After the three years off, his performances did not suffer from the extended layoff.
Knapp fans will be pleased to hear that his unique riffs and shredding solos maintain the sure-handed fire power just like on older releases. With 35 minutes of blistering metal, Knapp's choice to forgo a vocalist was a good call. The music is diverse enough, with Knapp's use of melody, speed, progressive and dynamic changes intertwined throughout each song.
The title track is a brief introduction to some sure-fire, heavy-as-hell riffs that are heard on tracks, such as "The Impossibility of Reason," "X-Class Flare," "Plasma Spheroid" and "Thrashed Radiation Shield." All tracks push the element of speed and thrash to the limit. Except for "Weaponology," the album firmly plants itself in the thrash genre, with all other genres making appearance on or around fast tempo grooves. A lot of energy and aggression seethe from the speakers as you spin this instrumental disk.
Knapp's fans will be happy that he didn't fall off the wagon and take listeners into more melancholy, ballad-happy jaunts and certainly will be glad he didn't head toward an Eric Johnson "Cliffs of Dover" overly clean and elegant foray. There are only so much of those repetitious riffs one can handle.
The story of Knapp's three-year journey is a compelling one. Who in this life hasn't been to brink of despair, unable to see the light at the end of the tunnel? Knapp shows that we can put our house back in order, even through the most trying of times. And while it takes, work, commitment, determination and certainly change, nothing is impossible for us to achieve, even at the darkest hour.
Genre: Instrumental Shred, Thrash Metal, Heavy Metal
All songs written and performed by Toby Knapp.
Track Listing:
1. Static Warfare
2. Weaponology
3. The Impossibility of Reason
4. X Class Flare
5. Plasma Spheroid
6. Not If But When
7. Trashed Radiation Shield
8. The Arrival Of Polaris
9. The Doomsday Clock
Label: Shredguy Records
Website: http://www.tobyknappmusic.com/home.cfm
Hardrock Haven rating: 8.5/10