Wood Shampoo | Crack Crack Heart Attack
by Joe Mis
– Senior Columnist —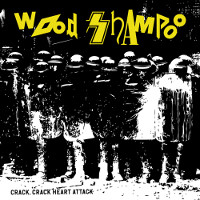 According to legend, "wood shampoo" refers to being struck repeatedly on the head with a wooden object such as a club, nightstick, or baseball bat. Fortunately there is nothing quite as drastic here, and the debut release from the band called Wood Shampoo is infinitely more fun…
A little punk, a little glam, and a little old school rock combine both in sound and spirit to make Wood Shampoo's first release a breath of fresh air. Fronted by New Yorker Murph Daniels, Wood Shampoo's Crack, Crack Heart Attack is an irreverent and amusing album that captures the true rebellious spirit of rock and roll without dragging in the anger and angst of the original punk scene. Murph Daniels may not be a well-known name, but his album has garnered a good deal of support from a diverse musical cast. Murph's bunch of hooligans includes Tommy Byrnes (Billy Joel, Joan Jett, Stray Cats), Chuck Burgi (Billy Joel, Hall & Oates, Bon Jovi, Rainbow), Eddie Martinez (Run DMC, Robert Palmer, Mick Jagger, David Lee Roth, Meat Loaf), Greg Smith (Alice Cooper, Ted Nugent, Rainbow), and even the great Joe Lynn Turner. Behind the scenes support includes mixing by Kevin Killen (U2, Peter Gabriel, Elvis Costello) and album mastering by veteran Bob Ludwig.
The spirit of fun permeates the album – at no time does the band seem to take itself too seriously. With minimal digital manipulation and studio trickery, Wood Shampoo performs with a tongue-in-cheek attitude and delivers strong and enthusiastic performances. No serious themes or social commentary live here, only rousing rock party tunes dealing unapologetically with the genre's big topics of sex, drugs, and rock and roll (and aliens, and vampires!). All stereotypes and kidding aside, Crack, Crack Heart Attack is a solid rock album with tight, well-delivered performances on every level. Some tunes tend towards pop-rock, some towards punk, and some exhibit a distinct blues influence – but all are strong tracks lyrically and musically. The mix is superb – crystal clear vocals and nicely balanced instruments.
The awesome bass and drum driven anti-drug "Crack, Crack Heart Attack," the smooth, toe-tap-inducing "Va-Va-Vavoom," and the pop rock "Top Of The World" show the versatility of the band as they seem equally at home in each distinctive style. Dark humor fills the tongue-in-cheek poke at the celebrity lifestyle on "Wanna Be A Dead Rock Star," while an almost pure punk groove drives "Red Lower Level." Old school rock grooves and perhaps a touch of Def Leppard fill "Around," "She's So Fine," and "Cover Girl" – all songs that bring a bit of the 80s back to life. Piano and excellent vocals (and amusing sound effects during the outro) make the rocking "One More Chance" a winner. Heavy guitars and a dark commentary on society make "Ticker Tape" the one truly serious track on the album – and it makes its point well.
"Where's the Party Earthling?" is an outright funny rocker dealing with an encounter with an ET – one interested in girls and beer rather than Reese's Pieces. Bob Dylan gets channeled in on the folk-rock sounding "You're Turning Me Gray," but the next track ("I Wanna Rock") is bouncy pop bubblegum for the mind. "My Best Friend Died (And Left Me His Guitar)" is a sad song with an upbeat (near rockabilly) tone and some amazingly hot guitars. A very slick rock groove returns on "Don't Pass Me By," and then the band pays humorous homage to some old movies with "You Suck (Mr. Vampire)." The latter features some really clever lyrics, a brief but blistering guitar solo, and backing vocals by Joe Lynn Turner. "Three Cheers" wraps the release with a true New York / Springsteen-esque epic featuring great lyrics, strong keyboards, and a great saxophone contribution from Frankie Tee.
If you want something serious and dark, look elsewhere. If you want to forget your troubles and just have a little old school fun, then Wood Shampoo's Crack, Crack Heart Attack may be exactly what you are looking for. Good natured and occasionally humorous, Wood Shampoo's music will give a lift to almost any listener – and provides a reminder that rock and roll can still be fun.
Genre: Classic, Punk Rock
Band:
Murph Daniels (vocals)
Guitars – Eddie Martinez (tracks 1, 7, 8)
Guitars, Backing Vocals, Piano – Tommy Byrnes (tracks 2 – 6, 9 – 17)
Bass – Schuyler Deale (tracks 1, 7, 8, 13)
Bass – Greg Smith (tracks 2 – 6, 9 – 11, 14, 17)
Bass, Drums – Dave Diamond (tracks 12, 15, 16)
Drums – Chuck Burgi (tracks 1 – 3, 5, 6, 9 – 11, 14, 17)
Drums – Harvey Neil (tracks 4, 13)
Drums – Ben Gramm (tracks 7, 8)
Backing Vocals – Joe Lynn Turner (track 12, 15, 16)
Keyboards – Larry Dvoskin (track 12)
Saxophone – Frankie Tee (track 17)
Track Listing:
1. Crack, Crack Heart Attack
2. Va-Va-Vavoom
3. Top of the World
4. Wanna Be a Dead Rock Star
5. Red Lower Level
6. Around
7. She's So Fine
8. Cover Girl
9. One More Chance
10. Ticker Tape
11. Where's the Party Earthling?
12. You're Turning Me Gray
13. I Wanna Rock
14. My Best Friend Died (And Left Me His Guitar)
15. Don't Pass Me By
16. You Suck (Mr. Vampire)
17. Three Cheers
Label: Indie
Website: http://www.woodshampoo.net/
Hardrock Haven rating: 8 / 10