Asking Alexandria | From Death To Destiny
by Matt Karpe
– Columnist —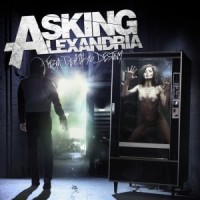 Asking Alexandria are one of the UK's premiere metal acts, and on third album From Death To Destiny, they up the ante with more of their trademark metalcore, as well as incorporating some hard rock to their ever maturing CV.
Vocalist Danny Worsnop has had some well documented problems with alcohol addiction, and on opening track "Don't Pray For Me", a recording is included from a live show where fans make their feelings clear of their disgust at an emaciated Worsnop who struggles through his performance.
This was maybe the hard boot in the ass that he needed to get out of his rut, and it sounds like it worked as his screaming is electric, and his rough singing voice is just as impressive. He duets with backing vocalist Ben Bruce, who is also on form on guitar as his ferocious riffing with rhythm axeman Cameron Liddell impresses. Bassist Sam Bettley provides the undertones and James Cassells' drumming is hard and heroic.
"Killing You" is classic AA, with fast pounding drumming and rapid guitar playing before the catchy melodic chorus kicks in containing some excellent vocals from Worsnop.
"The Death Of Me" follows, and it's one of the best songs Asking Alexandria have written in their career. Again it contains the same successful formula that has made the band what they are today, but there is also a controlled swagger in how they perform. From the beginning it is fast and frantic- stealing your breath and feeding off of that energy. Worsnop's screaming is emotional yet ferocious, kind of in the mould of early Slipknot/Corey Taylor, and the guitar work and drumming is exhausting. The chorus is so damn good that it's hard to get out of your head afterwards; it will surely be a fan favourite when played live.
"Break Down The Walls" is a good hard rock song, showing the new confidence gained. It's less aggressive than what came before, but it still sounds good blaring out of your stereo. Vocally, Worsnop sounds a lot like M. Shadows from Avenged Sevenfold, and with some excellent breakdowns and even a guitar solo, it is one of the more surprising successes on the album.
Second standout song "Moving On" is another step forward in the right direction. It's a kind of ballad- lyrically it is anyway. Worsnop tells the story as he appears to reminisce over past troubles and overcoming all adversity. His vocals are at their best here, a really clear showing of just how good his singing voice is. Musically it is of a slower tempo, but the guitar work is stunning and extremely melodic.
"Until The End" features ex-Killswitch Engage frontman Howard Jones, and his familiar vocals duet with Worsnop as they sing and scream over some of the heaviest riffs and drumming on the whole album- a good way to end proceedings.
All in all, From Death To Destiny can be labelled a definite success. The song writing has gone up a notch or two, and the instrumentation is in places more aggressive than before, yet in other places, more melodic then previously witnessed.
Danny Worsnop is the real hero of this record though, and his voice is getting better and better. It is a true testament to him for overcoming his troubles, giving him the chance to continue to make the music he loves with the band he loves.
From Death To Destiny gets stronger as it hits half way, and now with some good hard rock added to their explosive metalcore, Asking Alexandria may have found the final piece that was missing from their already impressive puzzle.
Genre: Metalcore, Heavy Metal, Hard Rock
Band:
Danny Worsnop- Vocals
Ben Bruce- Lead Guitar/Backing Vocals
Cameron Liddell- Rhythm Guitar
Sam Bettley- Bass
James Cassells- Drums
Track Listing:
1. Don't Pray For Me
2. Killing You
3. The Death Of Me
4. Run Free
5. Break Down The Walls
6. Poison
7. Believe
8. Creature
9. White Line Fever
10. Moving On
11. The Road
12. Until The End (Feat. Howard Jones)
13. The Death Of Me (Rock Mix) (Bonus)
Record Label: Sumerian Records
Website: www.askingalexandriaofficial.com
Hardrock Haven Rating: 8.5/10