by Justin Gaines
– Senior Columnist/News Editor —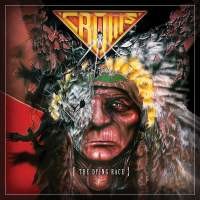 Originally released in 1991, The Dying Race was the debut album from German power metal band Crows, a very early Century Media signing and one of the most unfairly overlooked bands of that highly influential scene. Crows was a band with deep roots in the scene. They shared some band members with Angel Dust, and later both Bernd Kost and Bobby Schottkowski went on to join Sodom while vocalist Leszek Szpigiel spent time in both Mekong Delta and Scanner.
Crows is a band that's not so easy to classify. You say "German power metal" and "1991" and obviously Helloween and Gamma Ray are going to stand out as reference points. They didn't stay neatly within the genre lines though. There's a good balance of speed and melody, as well as traces of progressive metal – particularly in the technical lead guitar work – that really go nicely with the larger power metal framework. You're just as likely to think of early Fates Warning or Fifth Angel (Szpigiel sounds a lot like Ted Pilot here) when you hear songs like "Too Proud To Fight" and "East of Eden." It's a very effective mix of sounds, and one that makes the album really stand out in the crowd.
Whether it was bad timing, a lack of label support or just plain bad luck, Crows never caught on, and the members went their separate ways not long after The Dying Race was released. They left behind a first class power metal album though, and one that really deserves some added attention. Fans of bands like Helloween, Angel Dust and Scanner should obviously check this one out, but The Dying Race should also appeal to fans of Crimson Glory, Fates Warning, Queensryche and Fifth Angel.
Divebomb's 2013 Deluxe Edition reissue of The Dying Race puts this long out of print album back in fans' hands and offers more than a few extras in the process. The album itself has been newly remastered, and it now includes the band's 1989 4-song The Legions demo and three previously unreleased songs as bonus tracks. The bonus tracks have a much more traditional metal sound, and it's interesting to se just how much the band progressed in the short time between when the demo and The Dying Race were released. The booklet includes vintage photos and a new interview with drummer Bobby Schottkowski. It's a really well put together reissue all around, but that's par for the course with this label.
Genre: Heavy Metal, Power Metal
Band:
Leszek Szpigiel (v)
Bernd Kost (g)
Jochen Kalpein (g)
Frank Bankowski (b)
Bobby Schottkowski (d)
Track Listing:
1. The Frantic Factor
2. Too Proud To Fight
3. We Are the Storm
4. Four
5. East of Eden
6. Change the Border
7. Insanity Defense
8. The Dying Race
9. 4
10. Hungry
11. Medusa
12. The Legions
13. Back to Back
14. Cover of Ruin
15. Angel Cry
Label: Divebomb Records
Hardrock Haven rating: 9/10