by Matt Karpe
– Columnist —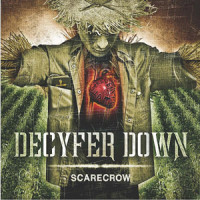 It's been five years since Decyfer Down's last album Crash, but now they are back with a new lead singer and new record Scarecrow.
The formula is still the same with this Christian band, as they incorporate some post-grunge sleaze with their usual hard rock roots.
"Memory" opens up with some energetic guitar riffs from Brandon Mills and Chris Clonts and thrashing drum beats by Josh Oliver. New vocalist and bassist TJ Harris has a strong rock voice which in certain instances sounds a lot like Shaun Morgan from Seether, as his snarl suits the aggression on show. There are also cleaner melodic moments where his voice is better displayed.
"Westboro" is based on the confrontational church of the same name, with lyrical references of how the actions of this outrageous group have caused so much disgust across the world. There are some blues riffs contained as the verses flow, but all in all it is a pretty ineffective song that fails to get their point all the way across.
"Say Hello" has some decent guitar distortion on a song that is slightly softer than what has come before. The chorus is one of the strongest on show, but unfortunately it is one of the very few high points on the album.
"Fight To Win" is the first single to be released, and it's also the heaviest song on Scarecrow. The hard rocking chorus fails to truly ignite, and leaves the listener at a loss as to why it was chosen as the promotion lead for the record.
"So In Love" ends proceedings with a soft ballad that lyrically borders on Christian worship. The guitar rhythms are toned down and the drumming is delicate, and it is arguably one of the better moments on a disappointing album.
Lasting only thirty-five minutes, it's hard to see what Decyfer Down have been doing for the last five years because Scarecrow falls short in so many ways.
Musically, most of the songs start off promisingly but they fail to evolve into something more. Strong choruses are severely lacking, which is a common need for a good hard rock release. There are only a couple of decent moments in the form of "Say Hello" and the closing "So In Love", but not even those songs can save Scarecrow from being left out to dry in a field.
Genre: Christian Hard Rock, Post-Grunge
Band:
TJ Harris- Vocals/Bass
Brandon Mills- Guitar
Chris Clonts- Guitar
Josh Oliver- Drums
Track Listing:
1. Memory
2. Westboro
3. Worst Enemy
4. Say Hello
5. Bleeding Lines
6. Fight To Win
7. Scarecrow
8. The River
9. Some Things Never Change
10. So In Love
Label: Fair Trade Services
Website: www.decyferdown.com
Hardrock Haven rating: 5/10