HORNET ANNOUNCE NEXT HEADLINE SHOW AT THE O2 ACADEMY2 ISLINGTON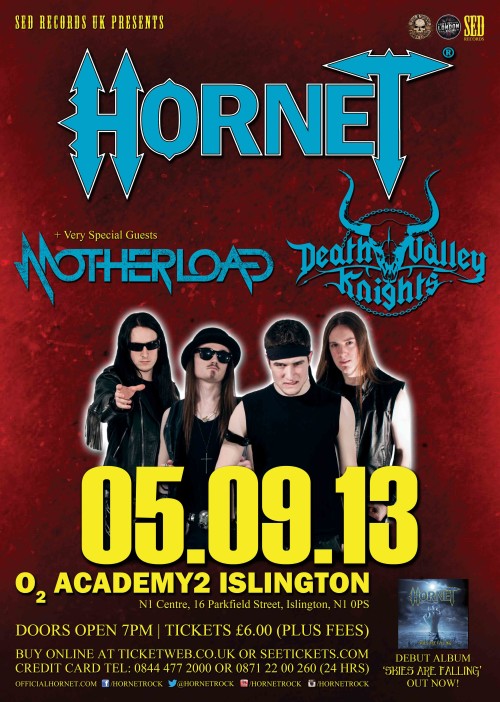 Having just released their highly anticipated debut album, 'Skies Are Falling', hard rock outfit, Hornet, have announced their next headline show The O2 Academy2 Islington on Thursday 5th September. Known for their electrifying and explosive live shows, Hornet are fast becoming a band to watch.
So far 2013 has been a good year for Hornet, having raised the funds via Pledge Music to record their debut album, selling out The Barfly, Upstairs at The Garage and The Borderline along with Kerrang! Magazine comparing the band to Airbourne and Cancer Bats and saying:
"Hornet plays riffs that make you want to ride a motorbike down a staircase. Riffs that make you want to pour whisky onto your cereal. Riffs that make Hornet a lot of fun."
The band now returns on Thursday 5th September to embrace the stage at The O2 Academy2 in Islington with a brand new stage show and set list.
Guitarist, Tollef Rikje-Pearson said "After our album launch in June we took a short break from live shows to work on our new stage show. It's going to be more over the top and theatrical than anything we've done before. What we've got planned for 5th September is going to be special. Expect big things!"
Support comes from Motherload, who are a no gimmicks, no niche, hard-hitting hard-rock band and Death Valley Knights, a hard rock/metal band that will get you to bang your heads, throw the horns and slam copious amounts of beer.
Tickets are £6.00 (plus fees) in advance or £8.00 on the door and are available online from:
TicketWeb UK: http://www.ticketweb.co.uk/event/hornet-tickets/75091
SEE Tickets: http://goo.gl/OmW1B2
Gigantic: http://www.gigantic.com/artist/hornet
Or by phone on the credit card hotlines on: 0844 477 2000 or 0871 22 00 260 (24HRS)
Don't miss out on all the action where Hornet will be unveiling their brand new stage show and set for the very first time…
Officialhornet.co.uk
Facebook.com/hornetrock
YouTube.com/hornetrock
Soundcloud.com/officialhornet
@HornetRock