James Christian | Lay It All On Me
by Mark Allen
– Senior Columnist —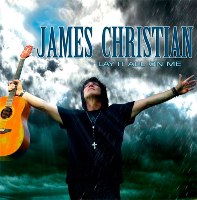 In melodic rock circles, disrespecting James Christian will earn you five knuckles right in the kisser and deservedly so—the man is a singing legend, a vocal god. So it is with the utmost respect that his latest solo album must be dubbed a moderate disappointment. Apparently not even gods are immune to flaws.
James—or rather, Mr. Christian to us mere mortals—is best known for his work with House of Lords (HOL) but do not approach Lay It All On Me expecting the same hard rocking sound. With the exception of two or three songs that ramp up the heaviness, this new solo release finds things dialed back into AOR-oriented territory. However, that's not what makes this a (mild) disappointment; rather, it is the overarching average-ness of the songs themselves. James—er, sorry, Mr. Christian—sounds as good as ever. The songs … not so much.
Now, you could readily argue that "average" is not necessarily a bad word and you would be correct. There is nothing downright damnable about this album and if "good enough" is good enough for you, then you may find this perfectly acceptable. But many—maybe even most—melodic rock fans expect high quality when James Christian is involved and to those folks, something this average, while not deserving of the "bad" label, is going to be disappointing. With the exception of Christian's vocal performance and a handful of good songs, the majority of this album wallows in mediocrity.
Song-wise, about five tracks are keepers. "Sacred Heart" serves up some rock muscle and hews close to the style of recent HOL albums. "You're So Bad" and "Don't Come Near Me" both kick up the tempo and allow a cool hard rock edge to invade the proceedings. "She's All the Rage" is a full-bore heavy rocker with powerful rhythms that almost sound of place compared to the breezy AOR that dominates the bulk of the album. And "Shot in the Dark" is a great melodic rock tune with flawless vocals, sweet harmonies, and an ultra-catchy chorus. If only all the songs had been of this caliber…
Nobody wants to lay a bad review at James Christian's feet and the reality is, this is not a terrible album, just a moderately disappointing one. Sandwiched between all the filler bloat are some truly good songs, so make sure you don't toss the baby out with the bathwater. Given how much great music Mr. Christian has provided us over the years, it's easy to forgive this minor misstep, knowing he will undoubtedly return to form soon enough. So while this album may make you go "meh," James Christian is still a melodic rock master.
Genre: AOR, Melodic Rock
Band:
James Christian (lead vocals, background vocals, acoustic guitar, bass guitar)
Robin Beck (background vocals)
Jeff Kent (keyboards)
BJ Zampa (drums)
Jorge Salas (guitar)
Jimi Bell (guitar)
Shelby Stewart (guitar)
Track Listing
1. Lay It All On Me
2. Sacred Heart
3. Day in the Sun
4. Believe In Me
5. You're So Bad
6. Don't Come Near Me
7. Let It Shine
8. She's All the Rage
9. Sincerely Yours
10. Shot in the Dark
11. Welcome to Your Future
Webpage: www.jameschristianmusic.com
Label: Frontiers Records
Hardrock Haven rating: 7/10