John Dyer Baizley of Baroness
by Steve Patrick
– Columnist —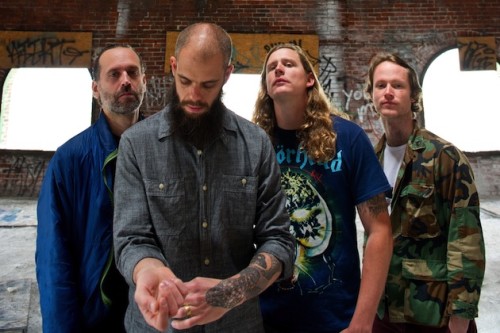 Savannah, Georgia-based metal band Baroness made their return to the stage in 2013 following a horrific bus crash last year near Bath, England. Recently, as part of the second leg of their US tour returning to the stage, Baroness came through Columbus, OH and played a show at the A&R Music Bar along with support from fellow Georgians Royal Thunder. The tour is also in place for Baroness to support their most recent album, 2012's Yellow & Green.
Baroness' frontman and prolific artist John Dyer Baizley took some time to speak with Steve Patrick of Hardrock Haven about life after the crash, the band's recent lineup changes, and creating his instantly recognizable album covers (Baroness, Kylesa, Black Tusk, Kvelertak). During the interview, Baizley specifically discusses his most recent album artwork project: the cover for Skeletonwitch's new record Serpents Unleashed.
Baroness is:
John Dyer Baizley – rhythm guitar, lead vocals
Peter Adams – lead guitar, vocals
Nick Jost – bass guitar
Sebastian Thomson – drums, percussion
::: Listen to the interview :::
For more information, please visit www.baronessmusic.com.