by Anabel Dflux
– Photojournalist —
JULY 31, 2013 at the House of Blues in Hollywood, CA. —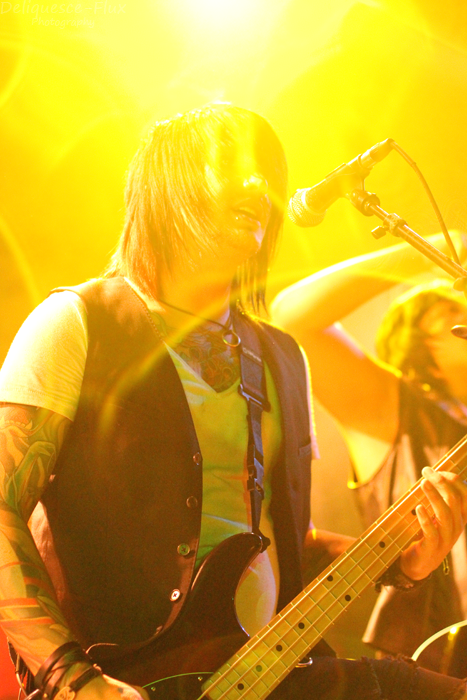 Escape the Fate rocked the sold-out 20th Anniversary of the House of Blues in Hollywood this past Wednesday, July 31st.
Having been around for 5 years with the current vocalist, and gone through a variety of complications and controversy, it's admirable that the band has stayed so passionate and dedicated to their craft. Each member syncs with the other brilliantly.
With the very first note, the crowd went wild for the performers. The candy colored lighting really enhanced the mood of the show, making the band member's movements enticing. Craig Mabbitt really connected with the audience throughout the performance, often making eye contact with the loyal first row. Bassist TJ Bell was in his own euphoric world, having the absolute time of his life on that stage! Monte kicked ass on the guitar alongside Micheal on rhythm guitar. Robert Ortiz showed the world what it means to be a brilliant drummer. 'Crowd pleasers' is an understatement for this band of musicians.
This was absolutely the show to be at and to those that missed it, well, you better catch their next gig because Escape the Fate definitely leaves an impression.
Members:
Craig Mabbitt – lead vocals
Thomas "TJ" Bell – bass guitar, backing vocals
Bryan "Monte" Money – lead guitar, keyboards, backing vocals
Robert Ortiz – drums, percussion, backing vocals
Michael Money – rhythm guitar
Escape the Fate 2013 Photo Gallery