LIVE! | HELLFEST 2013 – Kiss, ZZ Top, Whitesnake and more
by Christophe Pauly
– Photojournalist —
JULY 21-22, 2013 in Clisson, France —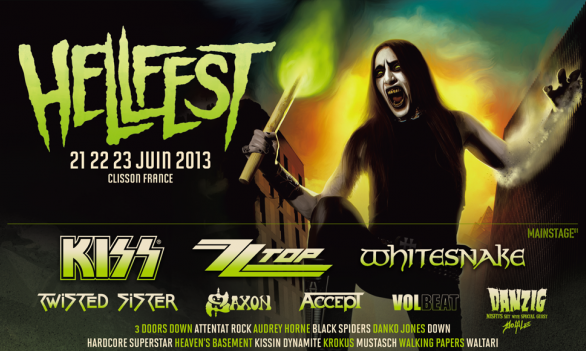 HEADLINERS:
Kiss, ZZ Top, Whitesnake
Hellfest features 160 bands deployed over 6 different zones.The bands are dispatched to these 6 areas according to their musical style and importance.
17 bands per day, including headliners, played on the two main external stages "Mainstage 1″ and "Mainstage 2."
A double tent hosts two other stages with 18 bands per day. One of them is called "The Altar" and offered the best Death Metal and Grindcore acts. The other one is called "The Temple" and it is on this stage that Pagan and Black Metal bands played.
Under "The Valley" tent you will find the 5th stage, where you can enjoy 9 bands every day playing Stoner, Doom, Sludge, Psychedelic and other Metal Alternative.
Finally 9 bands per day performed at "The Warzone" which is dedicated to Punk and Hardcore.
HELLFEST 2013 Photo Gallery
3 Doors Down, 7 Weeks A, Absu, Accept, Agnostic Front, Amorphis, Anti Flag, Arch Enemy, Asking Alexandria, Asphyx, At The Gates, Atari Teenage Riot, Attentat Rock, Audrey Horne, Aura Noir, Avantasia, Bad Religion, Bane, Berri Txarrak, Between The Buried And Me, Black Breath, Black Cobra, Black Pyramid, Black Spiders, Bullet for my Valentine, Bury Your Dead, Buzzcocks, Candlemass, Captain Cleanoff, Carpathian Forest, Casualties, Ceremonial Oath, Clutch, Coal Chamber, Cockney Rejects, Converge, Cradle of Filth, Cryptopsy, Cult of Luna, Danko Jones, Danzig, Dark Funeral, Day To Remember, Dead Congregation, Deez Nuts, Def Leppard, Down, Dr. Living Dead, Eagle Twin, Equilibrium, Eryn Non Dae, Evoken, Finntroll, Gallows, Ghost, God Seed, Gojira, Graveyard, Haemorrhage, Hardcore Superstar, Heathen, Heaven's Basement, Helloween, Hellyeah, Hooded Menace, Hypocrisy, Ihsahn, Immortal, Inquisition, Justin(E), Kampfar, Karma To Burn, Kiss, Kissin' Dynamite, Koldbrann, Korn, Korpiklaani, Kreator, Krisiun, Krokus, Le Bal Des Enrages, Leprous, Manilla Road, Marduk, Mass Hysteria, Misanthrope, Misery Index, Monstrosity, Moonspell, Mustasch, My Dying Bride, My Sleeping Karma, Nachtmystium, Negative Approach, Neurosis, Pallbearer, Papa Roach, Parkway Drive, Pig Destroyer, Primordial, Procession, Punish Yourself, Red Fang, Retox, Riverside, Rotting Christ, Saxon, Senser, Seth, Sick Of It All, Sinister, Six Feet Under, Skindred, Sleep, Spiritual Beggars, Sss, Stille Volk, Stonesour, Surtr, Swans, Symphony X, T.a.n.k., Terror, Testament, The Acacia Strain, The Arrs, The Decline, The Ghost Inside, The Great Old Ones, The Old Dead Tree, The Secret, The Sword, Toydolls, Truckfighters, Twisted Sister, Tyr, Uncle Acid And The Deadbeats, Vera Cruz, Voivod, Volbeat, Walking Papers, Waltari, Whitesnake, Wintersun, Witchcraft, Zz Top