by Jonna Ambur
– Senior Photojournalist —
AUGUST 6, 2013 at TOAD'S PLACE in NEW HAVEN, CT. —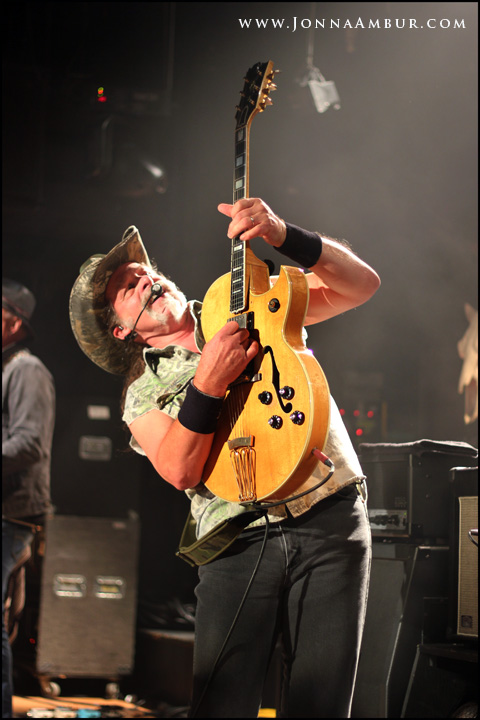 Ted Nugent's show at Toad's Place on August 6th was met with protestors beginning around 5pm. Nugent has never been one to back down from his right to free speech and bear arms and apparently some Connecticut residents wanted it to be known that they didn't approve They brought signs, megaphones and a list of issues. "Uncle Ted", brought love, appreciation, rock 'n roll and a sold out show that left hundreds without pre-purchased tickets outside listening from the street.
Uncle Ted is known not only for making great music, but for his outdoorsmenship, charity work and numerous awards from law enforcement. He also has a benefit foundation for the U.S. troops and has been a spokesperson for D.A.R.E and Big Brothers Big Sisters. Not a man to be kept quiet, throughout the show he shared his views on life and liberty. He was supported with endless cheers and "hell yeah's" from audience members.
Nugent, a rock and roll icon, brought the house down with his classics like "Free For All, "Wango Tango," "Cat Scratch Fever" and "Stranglehold". His encore "Great White Buffalo" kept everyone in the building until the lights came up and everyone was ushered out of the venue.
His band is currently, Derek ST. Holmes (Guitar and vocals), Mick Brown (Drums) and Greg Smith (Bass and backing vocals).
Sharing the stage with Nugent was Laura Wilde. Unfortunately, the line to get inside was so long that her set was missed by many, however the venue was kind enough to leave the doors open so everyone could hear her. And thankfully so! She rocked it!! After her set she did a meet and greet with the fans. She took photos, signed autographs and just talked with folks that wanted a moment of her time. Her debut album Sold My Soul is available now and it's a must have for anyone that appreciates good old fashioned rock 'n roll.