Manowar | The Lord of Steel Live
by Jonathan
– Senior Columnist —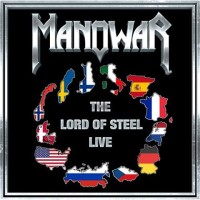 Although this is a review for Manowar The Lord Of Steel Live (EP), before continuing with the review of what is, it's important to understand what was. In other words, how did Manowar get to where they are today? Not in biographical terms but in musical terms.
Let's digress back to Gods Of War, a CD that's an absolute masterpiece yet sometimes misunderstood. On G.O.W. some felt that there was too much storytelling and not enough music. Clearly those reviews were by individuals that were incapable of seeing the big picture. Anyone with a normal attention span will hear out of approximately 73:00 minutes of total playing time, there's actually about 48:00 minutes of music. Point being, some reviews for G.O.W. are unsubstantiated and lack merit to say the least, so why the change?
Manowar did the complete opposite on The Lord Of Steel studio release. In addition to a drastically different production, Manowar removed conceptual storytelling, atmospheric instrumentals, ambient interludes and they took on a more commercial metal approach toward song writing. Those weren't the only changes, Joey Demaio's bass sound is no longer the same for some unknown reason. It's safe to say that regarding Joey's new bass sound, the gods are no longer happy, and neither are the Manowarriors. Some may think that Joey's bass sound isn't a factor, they couldn't be more wrong. His original bass sound is synonymous with Manowar, it's a one of a kind sound and tonality that only Joey and Manowar had; it's something that we all cherished from the beginning.
Let's all now pause and take a moment of silence for the tragic passing of Joey's original bass sound, you will be missed but never forgotten. HAIL!
The Lord Of Steel Live (EP) is now the third different, and by far the best production for five songs from T.L.O.S. studio release. The Lord Of Steel Live (EP) is a total of six songs, it contains five from the studio release by the same name and one song, the thrashy title track from the Thunder In The Sky (EP). The overall production on the new The Lord Of Steel Live (EP) is better than both of the previous studio mixes, however it's not a return to form.
While it's still unfortunately not his original tone, Joey's bass sound is a noticeable improvement compared to both studio versions. It seems to have less pre-amping and more compression on the buzzy overdrive, while at the same time trying to combine the original sound and tonality that we all know and love. It's not quite Hell On Wheels, Hell On Stage or Gods Of War Live, however it's a step in the right direction. Karl is on fire during the solos as is Joey with his ultra-melodic bass scales for example during "El Gringo" and "Manowarriors." During the rhythms the guitar is a bit low in the mix, but with a slight equalization adjustment you can bring out more high end. Vocally, Eric is still so amazing that it makes one ponder if he's actually of this world. Last but not least, Donnie's thunder has no trouble cutting through and keeping it all together, actually the drum production and performance are both the strength and backbone of The Lord Of Steel Live (EP).
The music is anthemic, uplifting and very melodic. Manowar prove with The Lord Of Steel Live (EP) that their musical ability hasn't diminished over the years, and there's still another chapter that has yet to unfold in the saga that is Manowar.
Genre: Heavy Metal
Band:
Eric Adams – Vocals
Donnie Hamzik – Drums
Karl Logan – Guitars
Joey DeMaio – Bass
Track list:
1. Thunder In The Sky (Recorded Live At Gods Of Metal Festival, Milan, Italy – June 21, 2012)
2. El Gringo (Recorded Live At Münchenbryggeriet, Stockholm, Sweden – March 10, 2013)
3. Expendable (Recorded Live At The Circus, Helsinki, Finland – March 16, 2013)
4. The Lord Of Steel (Recorded Live At Jahrhunderthalle, Frankfurt, Germany – October 20, 2012)
5. Hail Kill And Die (Recorded Live At Stadium Live, Moscow, Russia – November 3, 2012)
6. Manowarriors (Recorded Live At Mala Sportovni Hala, Prague, Czech Republic – October 24, 2012)
Label: Magic Circle Entertainment
Web: www.facebook.com/manowar / http://www.manowar.com/
Hardrock Haven rating: 8/10