Michael Monroe | Horns and Halos
by Deb Rao
– Senior Columnist —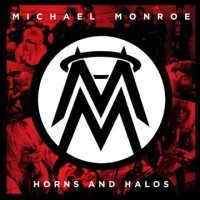 Former Hanoi Rocks singer Michael Monroe returns to the metal scene with his latest release Horns and Halos on Spinefarm Records. Horns and Halos finds Michael Monroe returning to his punk rock New York roots in full metal glory. This album could easily be the turning point for his career and bring back the raw, metal punk rock infusion that is missing in rock music today.
Opening track "TNT Diet" sets the tone for this blistering guitar-oriented release. The second track "Ballad Of The Lower East Side" is an ode to Michael Monroe's days on the east side of New York. The song starts off acoustic then builds to a gritty punk rock tale revisiting the glory days of punk rock on the east side, when CBGB ruled the club scene. Monroe's vocals are filled with emotion.
Other stand out tracks include the heartfelt "Stained Glass Heart." This sound has a Psychedelic Furs ambiance. "Child Of The Revolution" follows in the same realm.
"Soul Surrender" has a Social Distortion vibe. "Half The Way" is a brutally honest song which states, ".. the truth hurts." "Ritual" is dark and haunting with the sensual vocals of Michael Monroe taking full center stage. "Hands Are Tied" also revisits the punk rock heyday. Horns and Halos celebrates the glam punk rock genre. The songs are loud, fast, and furious. They tell a story of when the NYC Punk rock glam scene was a way of life. Where the dark smoked filled music clubs were filled with music that spoke emotion. This album is full of great guitar melodies. Steve Conte formerly of Company Of Wolves and Swedish guitarist Dregen roar.
Horns and Halos could easily become the album of the year for metal fans. It has a sound that resonates early Guns and Roses meets Lords Of The New Church meets Psychedelic Furs. It will take you on a musical journey back to the early '80s NYC when Glam Punk Rock ruled the music world.
Genre: Metal, Punk
Band:
Michael Monroe: Vocals
Sam Yaffa – Bass
Steve Conte – Guitar
Dregen: Guitar
Karl Rosqvist – Drums
Track Listing:
l. Tnt Diet
2. Ballad Of The Lower East Side
3. Eighteen Angels
4. Saturday Night Special
5. Stained Glass Heart
6. Horns And Halos
7. Child Of The Revolution
8. Soul Surrender
9. Half The Way
10. Ritual
11. Hands Are Tied
Label: Spinefarm Records
Web: www.facebook.com/michaelmonroeoffical
Hardrock Haven rating: 9/10