by Justin Gaines
– Senior Columnist/News Editor —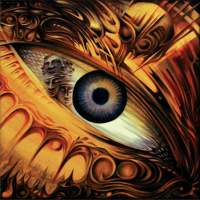 Eterea is album number two from Mindwork, a progressive/technical death metal band from the Czech Republic. Originally self-released in 2012, Eterea (as well as Mindwork's 2009 debut Into the Swirl) has been newly issued here in the States by the Divebomb label.
It's obvious right from the start that Mindwork is influenced – heavily – by Cynic and late period Death. There are death metal elements, but for the most part Eterea is dominated by a highly technical focus. A large part of that comes from Mindwork mainman Martin Schuster's intricate guitar work and jazz-inspired compositions, though the rhythms laid down by Adam Palma and Filip Kittnar are equally jaw-dropping. Schuster also handles both clean and harsh vocals, and switches between the two effortlessly.
Eterea is a fascinating album not only for the sheer mathematical technicality on display, but for the way that technicality sits side by side with an atmospheric, emotional vibe worthy of Katatonia. The lyrics reflect this as well, ranging from the abstract and conceptual to highly personal. The contrasts work so well largely because they're all pulled together as the songs and album progress. Even though the individual songs are quite strong, Eterea works best as a cohesive whole. It's also the kind of album you want to take in over multiple sittings, preferably over a decent set of headphones. Tune out the distractions and the album reveals new twists and turns with each listen.
Mindwork has created something really special here, and it's something that ought to satisfy fans of Cynic, Death, and Atheist on one side and Katatonia and Opeth on the other. If you're into technical and progressive music, especially on the more extreme side, it's time to discover one of the genre's best kept secrets.
Edition Notes: Divebomb's release of Eterea is a limited run CD and it includes a deftly handled cover of Cynic's "Uroboric Forms" that fits extraordinarily well with the rest of the album.
Genre: Progressive Metal, Death Metal
Band:
Martin Shuster (v) (g) (k)
Adam Palma (b)
Filip Kittnar (d)
Track Listing:
1. Enter Eterea
2. Perceiving the Reality
3. The Stream of Causality
4. Mind Renewal
5. Causality (The Reconciliation)
6. Reaping of Waters
7. Stillness of the Sea
8. Enthusiastic Waves
9. Eterea Collapse
Label: Divebomb Records
Website: www.facebook.com/mindwork
Hardrock Haven rating: 8.75/10