One Less Reason | A Blueprint For Writhing
by Matt Karpe
– Columnist —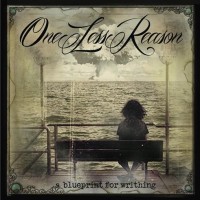 Every so often a band comes along that, whilst having a strong cult following, appear to be rather unknown in the great wide rock world.
One Less Reason is one of those bands, and after hearing their powerful and emotive music, you wonder how they slipped below your radar for so long.
With over 450,000 digital sales and five albums released independently, here is a band that do things their own way, and what a breath of fresh air they are.
Their latest release A Blueprint For Writhing contains six fantastic tracks packed with all the delicious ingredients of what melodic hard rock should sound like, with excellent musicianship and stunning song writing.
"All Beauty Fades" starts off with a soft piano tone and vocalist Cris Brown singing in beautiful delicate balladry. The song explodes into life with a chorus full of roaring drumming, crashing guitar riffs and strong singing. It's an emotional and heartbreaking song, but it's also rock perfection.
"Million Miles" is flat out hard rock, with some good guitar effects from Brad Butler and Jerry Bailey. Jeff Moore provides some great drumming as another catchy melodic chorus grabs you by the throat and pulls you in, not that anyone in their right mind would want to shy away from this.
"The Wrong One" has some haunting background beats to start with, as the slow eerie intro continues to build up the song. Then seemingly out of nowhere, your world comes crashing down as Brown screams and shouts over some screeching guitar riffs and deafening drumming. Brown's vocals are painfully melancholic, and you can't help but be impressed with this superb front-man.
"Never Let You Go" features Anthony Bursato from Joan Red, who tragically died not long after adding vocals to this traditional hard rock stormer. With another spot on chorus, it is probably the most accessible and radio friendly song which could get new followers interested in One Less Reason.
"Uneasy" includes female vocalist Blair Simpson, and it's a sumptuous piano ballad that ultimately comes together as a duet between herself and Brown. With some small scratchy acoustic guitars and marching band style drumming, it's a step in a different direction to the rest of the track listing.
"Blueprints" ends the excellent album with a near seven minute masterpiece, starting off with a dark bass line from Terry Brown. Swirling guitar effects add to the tension before it develops into some good hard rock packed with energetic drumming and brilliant guitar riffs. Brown's powerful voice strikes gold one more time and his poetic words are enchanting before the song fades out and leaves you to reminisce about what you have just heard.
One Less Reason is an original band who writes about life experiences with such passion and immense realism.The listening experience is like no other as so many different emotions can be felt and related to.
A Blueprint For Writhing is pure art and it is absolutely flawless.
Genre: Hard Rock
Band:
Cris Brown- Vocals
Brad Butler- Lead Guitar
Jerry Bailey- Rhythm Guitar
Terry Brown- Bass
Jeff Moore- Drums
Track Listing:
1. All Beauty Fades
2. Million Miles
3. The Wrong One
4. Never Let You Go (Feat. Anthony Bursato)
5. Uneasy (Feat. Blair Simpson)
6. Blueprints
Record Label: Independent
Website: www.onelessreasonmusic.com
Hardrock Haven Rating: 10/10