Sabinas Rex | Sabinas Rex – A Rock Opera
by Joe Mis
– Senior Columnist —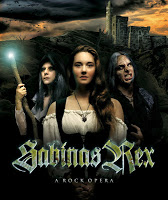 Sabinas Rex is a massive, New York based rock opera project masterminded by Vlado Kormos. If an album could be rated solely on packaging this one would get perfect scores everywhere – but in this case the content comes pretty darn close to matching the "picture on the box." Bundled in the DVD-style case are 2 CDs packed with 20 tracks of solid music and a nicely done 30 page booklet with lyrics, a narrative, and beautiful original artwork that tell the story of Sabinas Rex.
The project's key members are keyboardist Vlado Kormos (who also wrote the story based on memories of childhood tales), drummer Teodor Lvovsky, guitarist Vladimir Ouchakov and vocalist Cara Lynn Robinson. The core is ably supported by numerous other singers and musicians, making this a project of massive scope and size. Refreshingly, this is a band built by Vlado Kormos, but not built AROUND Vlado Kormos. Each member plays a strongly defined role in this labor of love, and makes this rock opera a success in every sense of the word.
As told in the book and music this is the story of Sabina, a young woman who helps save a mysterious hunter (who turns out to be the king in disguise) from the barbarians and becomes involved in the age old epic struggle of good and evil. The tale is set in a kingdom near the Carpathian Mountains, and it brings in all the wonderful and mysterious things that such a medieval setting should – magic, witches, demons, plague, tyrants, battles, victory, and love. While the story itself is nothing that we haven't heard in many variations over the years, it is the telling of the tale that makes it special…
Vlado Kormos himself provides the expressive spoken words to "Intro," an orchestral piece that sets the stage for the story. The slow and mellow "Brotherhood" features Chandler Mogel voicing the king, along with strong orchestration of keyboards, cello, and string sounds. "Evil's Faith" introduces the evil protagonist Lord Gazdashag, bellowed nicely by Baron Misuraca. This track is a heavier, darker Gothic rock song that starts softly and then brings in massive guitars, bass, and drums. We finally meet the heroine Sabina in "Hard To Be A Lady." A straight up rocker with a real metal guitar solo, this song is strongly sung by Cara Lynn Robinson as she introduces her character to the Hunter and the listener. Rek Anthony provides a great metal voice on the rocking "Your Fellow Man," a track with great guitar hooks and a massive bass line.
The Kingdom's soldiers are sent off to war with a grand celebration in "Masquerade," featuring the vocals of David Giardina. This waltz-like tune would be at home in almost any stage production. "The Curse" is a very cool symphonic metal duet between Cara Lynn Robinson's majestic Sabina and Baron Misuraca's raspy Lord Gazdashag. "The Charge" follows – a slower, melancholy keyboard / orchestral tune that introduces the White Witch (Vanessa Tzavellas) and the Wizard (Jeff Nimeh). Sabina (Cara Lynn Robinson) returns to give an amazing vocal performance on the soft "Besides Me." The first half of the story concludes with the voice of soprano Liana Delaurent and orchestra on the mostly instrumental "The Vigilance."
The second act opens strongly with the King (Chandler Mogel) contemplating his rule in "Rex's Reign." It opens as a soft acoustic guitar piece but becomes a major progressive rocker with heavy guitars, big drums and bass, and some slick keys. Sabina returns on "Double Vision" – a track that starts with simple vocals and keys and gradually builds in intensity and complexity until the full band participates. "The March of Misery" is one of the strongest tracks on the album. The emotional vocals of Vanessa Tzavellas are backed by outstanding keyboards and programming, making this a treat for the ears. Vivid choir vocals and the strong voice of Rek Anthony are the icing on the cake to the hard rocking "Brothers Just And Right." "Dying Angel" is another near Broadway-style number with dramatic vocals and moody orchestration that leads nicely into the musical transition piece "Praise The King".
Rek Anthony returns on the majestic ballad "Stories," a keyboard piece that completes the opera's transition from darkness to light. Stephanie Kakabe sings a duet lead with Chandler Mogel on the triumphant and upbeat "Music Of The Realm." Melodic keyboards and a strong chorus make this a pleasant romp. Powerful drums and a real rock rhythm line complement Robinson's sweet voice on the true finale, "Message." The tale is neatly wrapped by a final bit of narration on "Outro," marking a pleasing end to a long and difficult journey.
Overall, Sabinas Rex is a triumph. The diverse group of relatively unknown musicians somehow gels and manages to produce something that is greater than the sum of its parts. Each singer is well cast and expresses their character well, and the musicians involved are near flawless. The execution of this Rock Opera is simply superb, and the entire production BEGS to be performed live on stage. Hopefully Vlado Kormos can one day make it happen.
Their truly are no negatives worth mentioning here. Musically solid with a fine mix of styles and tones, Sabinas Rex – A Rock Opera should entrance and enthrall anyone who loves a good old-fashioned story. Good performances, well-written songs and excellent teamwork combine to make this huge project a winner, setting the bar in the rock opera genre very high. Vlado Kormos should be very proud of what he and his diverse group of friends have accomplished. Very highly recommended!
Genre: Rock, Metal Opera
Band:
Chandler Mogel – vocals (tracks 2, 11, 18)
Baron Misuraca – vocals (tracks 3, 7, 15), bass (track 15)
Cara Lynn Robinson – vocals (tracks 4, 7, 9, 12, 19)
Rek Anthony – vocals (tracks 5, 14, 17)
David Giardina – vocals (track 6)
Vanessa Tzavellas – vocals (tracks 8, 13)
Jeff Nimeh – vocals (track 8)
Liana Delaurent – vocals (track 10)
Lynn Sher – vocals (track 15)
Rado Lesay – vocals (track 16)
Stephanie Kakabe – vocals (track 18)
Vlado Kormos – narration (tracks 1, 20), keyboards / programming, bass (tracks 4, 7, 8, 18, 19)
Vladimir Ouchakov – guitars
Teodor Lvovsky – drums (tracks 3, 5, 7, 14, 18, 19)
Brano Brinarsky – bass (tracks 5, 14)
Joseph Tessoun – bass (tracks 9, 12)
Tonny Comforti – acoustic guitar (track 15)
Choir – Alex Apjar, Liana Delaurent, Donna Haubrich, Darina Martinovic, Julius Mikes, Jana Steiger, Amethyst Valentino
Track Listing CD 1:
1. Intro
2. Brotherhood
3. Evil's Faith
4. Hard To Be a Lady
5. Your Fellow Man
6. Masquerade
7. The Curse
8. The Charge
9. Beside Me
10. The Vigilance
Track Listing CD 2:
11. Rex's Reign
12. Double Vision
13. The March of Misery
14. Brothers Just and Right
15. Dying Angel
16. Praise the King
17. Stories
18. Music of the Realm
19. Message
20. Outro
Label: Independent
Website: https://myspace.com/sabinasrexopera
Hardrock Haven rating: 9/10