The Goddamn Electric | Snakebite
by Matt Karpe
– Columnist —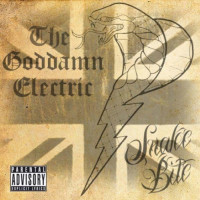 Naming your band after a popular Pantera song takes balls and arrogance, and after hearing Snakebite, it's plain to see that UK rockers The Goddamn Electric have plenty of both and its fully justified.
Their energetic rock includes elements of southern blues, funk and sleaze, with a very American feel all the way through their self-released debut album.
"Loyal to the Sinner" contains good hard drumming from Gavin Rourke, good rockin' riffs from Al Turnball, that in places contains some blues as previously mentioned. He also adds a good solo while Justin Turnball provides a raunchy bass line. Vocalist Tommy Mitten's raspy voice sounds a lot like James Hetfield on Metallica's Load and Reload albums, and this is a good start to Snakebite.
"Morning Injection" contains some sleazy guitar rhythms and funky bass, and a good catchy chorus that could earn the band more notoriety when heard.
"Something More" is highly energetic with some pounding drumming and Mitten's gravelly voice suits the type of rock that TGE play.
"Revive and Survive" is the best song on the album, with just under three minutes of hard rock perfection. It's fast and furious with a slightly punky feel to it, as the rasping guitars and bass work well with the emphatic drum beats. The chorus is also the best on the album and could be a great radio single, as well as a sure live favorite.
"Holding Me" is the last song on Snakebite- a seven minute track which continually changes in tempo, beginning in slowed down fashion. Mitten's clean and delicate singing plays out over some soft bluesy guitar rhythms and a gentle bass hook. Then it explodes into life on the chorus as the guitar and bass is turned up to 100 and the drums start to pulverize. The second verse goes back to slow mood before another increase in volume shows TGE at their rocking best.
"San Francisco" is a short instrumental outro to end the album, but it's the nine full tracks that you should be judging this band on.
The various styles of rock are performed well, with some good instrumental and memorable choruses. Al Turnbull is an excellent guitarist, and Tommy Mitten is another highlight as a pretty dominating frontman. For a debut album, the production is also pretty good, sounding professional and highly affective.
Over the last few years, the UK has been most notable for spawning some of the best and most popular metalcore bands who have made it big across the world, but The Goddamn Electric have added themselves to the hard rock league, and based on Snakebite, they wouldn't sound out of place if mentioned in the same breath as Buckcherry or Guns N' Roses, not bad company to be amongst…
Genre: Hard Rock, Southern Rock, Blues, Classic Metal
Band:
Tommy Mitten- Vocals
Al Turnball- Guitar
Justin Turnball- Bass
Gavin Rourke- Drums
Track Listing:
1. Loyal to the Sinner
2. Morning Injection
3. Scarecrow
4. Jealous Contradiction
5. Something More
6. Revive and Survive
7. Snake Bite
8. Too Dirty
9. Holding Me
10. San Francisco
Record Label: Self Released
Website: www.thegde.co.uk
Hardrock Haven rating: 8/10