Tim Morrison of Age Of Days
by Matt Karpe
– Columnist —
Age Of Days' music contains something for everyone. From catchy hard rock bursting with energy to slower delicate ballads, here is a band that is finally gaining the recognition they deserve.
Their latest release Radioactivity is their first album since 2008's excellent Hollywood Ending, and I caught up with lead singer Tim Morrison to discuss where Age Of Days have been for the last few years, and now they're back, what they have planned for the future.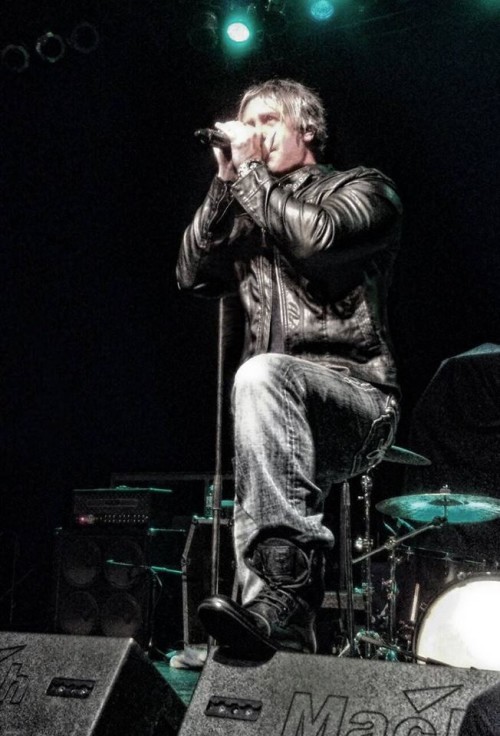 Matt: First of all Tim, thank you so much for taking the time to talk to me, how are you doing today?
Tim: I'm doing well Matt, thanks for spending some time with AOD!
Matt: Let's get straight to it. Age Of Days recently released Radioactivity a great rock album full of catchy anthems. How pleased are you with how the record turned out?
Tim: Very pleased, we had the opportunity to work with JUNO Award winning and Grammy Nominated writer/producer Brian Howes (Hinder, Nickelback, Daughtry, Puddle of Mudd). I've always been a fan of his work and I'm friends with a lot of bands he's worked with so I couldn't wait to work with him. We wrote and recorded in L.A. Brian understands the band we are and he really helped us hone in on our material. I think from a songwriting standpoint, Matt (McLaughlin- Co-Founder of AOD) and I really raised our game and had been through a lot collectively as a band with the ups and downs of the industry and also on a personal level in our own lives, so we were able to spend time evolving as songwriters. From a production level this is no question the best sounding album to date so we are really pleased with the result. We also wrote with our good friend Justin Forsley who is an amazing song writer and again was able to understand what AOD was about.
Matt: Trust me when I say this, it's seemed like forever since the release of your last album Hollywood Ending, five years I make it. How come it took so long to get some new material out?
Tim: It has been what seems like forever between albums, that's also the nature of the industry sometimes. We went through a management change and left our label so there was a lot of time that had to be spent off the road and away from the studio going through the necessary steps of the process, and let's be honest sometimes things like that completely sidetrack and derail a band to the point that it dissolves. For us that wasn't the case. We were driven and motivated to get through that and get the follow up album out. We continued to write and record, I believe Matt and I have demoed enough for three more albums! With that being said we are always writing and thinking towards the next album.
Matt: You also changed your band name slightly, dropping the 'Daze' in favor of 'Days.' Was the thinking behind that a new start, a new name?
Tim: That's exactly why the name change came about, because we had time between albums and have grown as song writers and musicians and in our personal lives we felt it was a new evolution for the band. The spelling is essentially that just capturing that with the name, we are focused with new material and producer, management and label.
Matt: I absolutely loved Hollywood Ending; it was brilliant hard rock perfection. Radioactivity has a different feel to it (but it's still great!). The production is more polished, and the songs are slightly more alternative. Explain the mindset you had when you entered the studio on what kind of album you wanted to make?
Tim: With Hollywood Ending, that album was written start to finish by myself and Matt. It's essentially the point where I believe we found out what our strengths were as a band and from a songwriting standpoint. We wrote and demoed the songs in my home studio and recorded the songs exactly as we had intended and it had this raw emotion and sound. For Radioactivity it was essentially a culmination of songwriting with other writers and collaborating with Brian and Justin which I believe really added a great element to it. We wanted to bring a more polished approach to the album and wanted to raise the bar in terms of quality and variety of songs on the album, I mean we wrote with the intention that every song could be a single and I think that gets lost with a lot of albums out there today. It's almost formulaic in terms of you have the so called "radio singles" and then you have filler on the album. We worked really hard to create a sense of a journey with the songs from start to finish and put a lot of effort into every song. I think there is a great variety and something for any rock listener.
Matt: It seems to me that the long build up to Radioactivity has helped AOD to be promoted better, helping you to build a bigger fan base. Would that be a fair analysis?
Tim: Fair in one sense in that we had created a great platform and fan base to launch from by what we had built with Hollywood Ending, but with that being said in this industry, being off the map for the length of time we have been it's essentially like re-introducing the band back to the world. Music changes so much and there is so much out there it's easy to be forgotten when you aren't out there performing and being on the radio. We have some amazing fans that were patiently awaiting the new album and we really hope we delivered and so far the reaction has been amazing for us.
Matt: On "Now or Never" you worked with Sal Costa, formerly of My Darkest Days, and Cody Hanson from Hinder. What was it like working with those guys?
Tim: First off FANTASTIC, I love and respect those guys on so many levels. Sal is a good friend and I absolutely love his commitment to music and his nature in general with positive thinking and wanting to help create songs that can make a difference, that's how "Now or Never" came about. We were talking about collaborating together and Sal brought the idea of creating a song that inspires social change- a song that doesn't tell you what to think…but simply suggests to the listener that they should just think about what's happening everyday around the world and in their lives. So we got together in the studio in Toronto and wrote the song. I'm very happy with how it turned out and very proud of the message of the song. I was ecstatic about Cody wanting to be involved, we toured with Hinder a few times before and I've always been a fan. They are great guys and great performers and we discussed the opportunity to write together before but with our different schedules it just never worked out. I've always respected Cody as a writer and how involved he is in Hinder's success. Sal essentially was writing with Cody in his studio and played Cody the song and Cody really liked it and wanted to be involved so we got on the phone and Cody tracked the drums in his studio and that's how it came together.
Matt: You're currently doing some tour dates with the awesome Buckcherry, how have the shows been going?
Tim: Buckcherry are one of my favorite bands so to be touring with them is a real honor, they are a great live act and some of the nicest guys you'd meet. So the tour has been great, they have a great fan base and they have been embracing AOD. We have been having a blast.
Matt: Buckcherry look like they can throw a great party after the shows?
Tim: Buckcherry are great guys off and on the stage, very professional and really put 200% into their shows. The tour has been running back to back so the party time has been limited, but every once in a while we have taken the opportunity to let loose…
Matt: So what else do you and the band have planned for the rest of 2013?
Tim: We just shot the video for the new single "I Did It for Love" which will be out in August. We have an extensive North American Tour that will be announced mid August so that will be keeping us busy and the new single will make its way to the US with a launch in August as well, so lots of exciting things coming up for the band.
Matt: Could there be a tour of Europe on the horizon? I would love to see you come to the UK in the future, but if I have to wait too long I'm just gonna have to hop on a plane to Canada!!
Tim: We haven't been to Europe as of yet but I will say there is a plan to have AOD tour there at some point. We have some very supportive fans from Europe and can't wait to make our way there.
Matt: Okay, just a couple more questions- some random but hopefully interesting questions for you, here we go… If you had to name two of your favorite artists/bands ever, who would they be?
Tim: That's a tough question, I have so many. I think for me I'd love to be able to tour with bands like KISS, Metallica, Aerosmith, Bon Jovi – some iconic bands that I've always looked up to and grown up with. Coming up soon we are playing a festival with our friends Buckcherry and we're sharing the stage with Sebastian Bach and I am a fan of Skid Row and genuinely stoked about playing with him as well.
Matt: Man I love Skid Row, Bach is a phenomenal vocalist!! Okay, if you weren't in a band, what do you think you would be doing now?
Tim: I think I'd be involved in the music business in some capacity as music is essentially a huge passion for me, whether it's behind the scenes or with a label of some sort I just think music and expression are an important part of life.
Matt: Well said!! And finally…People should go out and buy Radioactivity because…
Tim: Because I believe it has something for everyone- from a rock mid tempo ballad to some riff rockin' high octane songs. It has a good cross section of material and sounds great cranked to 11 in your car… just remember we aren't responsible for the speeding tickets you may incur while listening.
Matt: Okay I think that wraps it up for now, thank you so much again for your time.
Tim: Thanks Matt for taking the time and again we appreciate the support!
Matt: I wish you all the best for the future and I hope there's plenty more to come from Age Of Days.
Tim: Thank you sir and we look forward to coming over to the UK, keep rockin' bud.
Website: www.ageofdays.com