Witches Mark | Witching Metal Ritual
by Justin Gaines
– Senior Columnist/News Editor —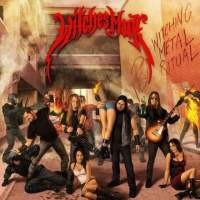 It's been four years in the making, but Austin-based traditional heavy metal crew Witches Mark is finally back with a full-length follow up to their 2009 debut EP A Grim Apparition. The band's new album is called Witching Metal Ritual, and it features guest appearances by Ross the Boss (Death Dealer, ex-Manowar), Jason McMaster (Dangerous Toys, ex-Watchtower), Jack Starr (ex-Virgin Steele) and Martin DeBourge (ex-Damien Thorne).
If you've been following the traditional heavy metal scene in recent years, you know the genre is enjoying an increased popularity thanks in large part to the simpler, catchier and yes cheesier stylings of bands like White Wizzard, Cauldron and Enforcer. You might look at the cover to Witching Metal Ritual and be tempted to lump Witches Mark into that category, but as soon as you press "play" you can tell these guys have a lot more going on than simple hooks and denim vests. Yes this is old school metal and yes they're in the same ballpark as Twisted Tower Dire and Cage, but there's a real heaviness here, not to mention a surprising level of musical proficiency and powerful vocals reminiscent of Matt Barlow.
Witching Metal Ritual comes close to full-on thrash at times, especially when the blistering riffs are matched with the occasional harsh vocals (see closing basher "Where None Can Follow"), and it swerves into doom territory ("We Die"), and it has its obligatory cheesy anthem ("Bringers of Heavy Metal Death"), but for the most part the album hits the sweet spot between power and thrash where bands like Iced Earth, Sanctuary and Vicious Rumors tend to dwell. You hear this signature sound best on songs like "Cauldron Born," "Salem's Fire" and the title track, all of which are sure to get heads banging.
Witches Mark exhibited a lot of promise back when A Grim Apparition first appeared, and with Witching Metal Ritual they deliver on that promise. This is a very heavy, very strong, and very enjoyable album that's bound to satisfy fans of traditional, power, thrash metal and all points in between. Fans of Twisted Tower Dire, Seventh Calling, and Helstar in particular will want to get their hands what has to be considered one of the strongest traditional metal releases of 2013.
Genre: Heavy Metal, Traditional Metal
Band:
Robb Bockman (g) (v)
Robert Williams (g) (v)
Andy Gonzalez (b)
Scott Palmer (d)
Track Listing:
1. Bringers of Heavy Metal Death
2. Salem's Fire
3. Swarm
4. Glaves
5. We Die
6. Cauldron Born
7. Witching Metal Ritual
8. Where None Can Follow
Label: Heaven and Hell Records
Website: www.facebook.com/witchesmarkband
Hardrock Haven rating: 8.75/10