Blood Ceremony | The Eldritch Dark
by Justin Gaines
– Senior Columnist/News Editor —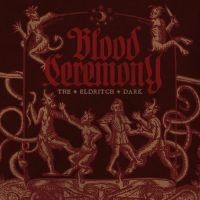 One of the more promising bands in the whole resurgence of occult-themed heavy/stoner/psychedelic rock is Canadian act Blood Ceremony, who has returned with their third album, titled The Eldritch Dark. Blood Ceremony's approach to old school heavy rock owes as much to Jethro Tull as it does Black Sabbath, and it's obvious Coven was a major influence as well.
The Eldritch Dark carries on more or less where 2011's Living With the Ancients (and the band's 2008 self-titled debut) left off, channeling the riffs of Black Sabbath's more mellow moments with completely infectious flute work by vocalist Alia O'Brien. Blood Ceremony sounds a lot like a more ethereal version of Swedish band Witchcraft here, maintaining a metal edge while veering deep into psychedelic territory. O'Brien's vocals are haunting and otherworldly, and are the perfect match for these songs about wizards, dark rites and the supernatural.
The album starts very memorably with the spooky "Witchwood" and surprisingly catchy "Goodbye Gemini," before bassist Lucas Gadke takes a turn at the microphone for "Lord Summerisle," which for all its tranquility is one of the album's most memorable tracks. The heavy, bard-style "Ballad of the Weird Sisters" and the title track are also highlights of this very strong release. Closing number "The Magician" is the album's heaviest, most flute-laden track, and it closes things on an appropriately Sabbath-y note.
While The Eldritch Dark isn't as instantly gratifying as Living With the Ancients, it's definitely an album that grows on you with repeated listens. This is a worthy follow-up, and still more proof why Blood Ceremony is the best of female-fronted occult rock bands like The Devil's Blood, Jess and the Ancient Ones, Jex Thoth and the like. Fans of Graveyard, Witchcraft, Kadavar and Orchid will also want to give The Eldritch Dark a try. It captures that 1969 heavy rock sound as well as anything released in the last couple of years, and that's saying something!
Genre: Doom Metal, Psychedelic Rock
Band:
Lucas Gadke (b)
Alia O'Brien (v) (k) (f)
Sean Kennedy (g)
Michael Carillo (d)
Track Listing:
1. Witchwood
2. Goodbye Gemini
3. Lord Summerisle
4. Ballad of the Weird Sisters
5. The Eldritch Dark
6. Drawing Down the Moon
7. Faunus
8. The Magician
Label: Rise Above
Website: www.myspace.com/bloodceremony
Hardrock Haven rating: 9/10