Charming Grace | Charming Grace
by Nikiforos Skoumas
– Columnist —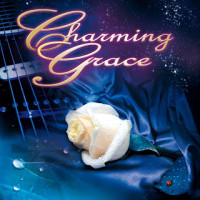 In 2010 German melodic rock label, Avenue of Allies released Shining Line, one of the most ambitious albums of their catalog, an all-star melodic rock project based on the songwriting core of bassist Amos Monti and drummer Pierpaolo Monti. 2013 sees their next all-star offering titled Charming Grace. Charming Grace is a duet album built around up-and-coming singer Dave Rox Barbieri (Wheels of Fire). Dave is featured on all 14 songs on the album sharing vocal duties with some of the genre's greatest.
The team of vocalists includes Nick Workman, Gui Oliver, Michele Luppi, Jessie Galante and Alessandro Del Vecchio amongst others, and renowned instrumentalists as Jeff Paris, Peter Firestedt, Tom Martin and Mario Percudani, to mention just a few.
In terms of music orientation, Shining Line is clearly separated from the melodic hard rock of Wheels of Fire being a far more subtle creation. Indeed Shining Line is keyboard/guitar driven adult oriented rock that never gets too aggressive. You could say that the songwriting is somewhat formulaic in order to create a comfortable as-possible environment for the singers to shine.
Having said that, none of the tracks are particularly easy to be sung and Dave effectively raises his game vocal-wise becoming a much better singer in the process. Take for instance, the opening track "Everytime you Touch my Heart," easily the album's greatest moment where Barbieri has to match the vocal attack of the great Nick Workman and at the same time follow his high pitched melodic waves. Sure enough he pulls that off far better than what one would expect. Other highlights of Charming Grace include "Close your eyes" as well as the female vocal duets "The Answer was you" and "Run Away."
Overall if you are a fan of all-star melodic rock projects and have enjoyed Shining Line or the more resent Rage of Angels Dreamworld album then you should definitely try Charming Grace.
Genre: AOR, Melodic Rock
Line up:
Davide "Dave Rox" Barbieri – Vocals, Keyboards
Amos Monti – Bass
Pierpaolo "Zorro11" Monti – Drums, Percussion
Guest Vocalists: David Forbes, Nick Workman, Moon Calhoun, Michele Luppi, Thomas Lassar, Bente Smaavik, Stefano Lionetti , Kimmo Blom, Jessie Galante, Gui Oliver, Alessandro Del Vecchio, Henrik Launbjerg, Josh Zighetti, Aurë
Track list:
1. Everytime You Touch My Heart (feat. Nick Workman)
2. The Way You Feel Inside (feat. Moon Calhoun)
3. Shining Light (feat. David Forbes)
4. Just Take My Hand (feat. Gui Oliver)
5. Close Your Eyes (feat. Michele Luppi)
6. Still Dreamin' (feat. Thomas Lassar)
7. The Sound of Your Heart (feat. Alessandro Del Vecchio)
8. Everybody's Broken (feat. Josh Zighetti)
9. The Answer Was You (feat. Bente Smaavik)
10. Run Away (feat. Jesse Galante)
11. Through the Stars (feat. Stefano Lionetti)
12. Endless Flame (feat. Henrik Launbjerg)
13. Bring My Life Back (feat. Kimmo Blom)
14. Leave a Light On (feat. Aurë)
Label: Avenue of Allies
Hardrock Haven rating: 7.5/10