Dragonsclaw | Judgement Day
by Matt Karpe
– Columnist —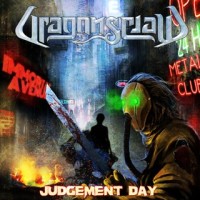 Power and speed metal has traditionally become genres dominated by American and European bands, but now Dragonsclaw bring an Australian approach with their second album Judgement Day.
"Watching My Every Move" contains some excellent speed drumming by Alcides 'Seed' Stowe and the guitar riffs from Ben Thomas are explosive. Vocalist Giles Lavery has good variety in his arsenal, with his high pitching being in the same mould as Rob Halford and Bruce Dickinson, and his raspier moments just as emphatic. The song also features ex-Accept frontman David Reece and the two vocal styles blend together well.
"Judgement Day" contains more fast paced drumming and a rousing solo from Thomas- something that dominates a few songs on the record.
"Bullet" has the best melodic chorus on show throughout, and the keys from Ray Martens make this song atmospheric in its metal onslaught.
"Lucifers Hammer" is a decent rendition of a Warlord song, which is apt as Lavery is currently part of Warlord's live line-up. This pays homage to a band that has arguably helped to bring Dragonsclaw further into the public eye.
"Eternally" ends the album with some 80s' style riffing that screeches along nicely. The key samples are good as a basis for a slowed down symphonic number that contains some really strong vocals once more, and is the highlight of Judgement Day.
Lavery is undoubtedly a top quality frontman, and his vocal range is up there with the best. Ben Thomas is a talented guitarist and Alcides Stowe's thrashing on the drum kit is also highly entertaining. However, the combination of these elements fails to deliver an album of consistent skill and integrity. The songs fail to progress, and often they stick to the same tempo rather than explode further into life.
Dragonsclaw are surely capable of better, but right now they don't look like they are ready to threaten their American and European contemporaries who play this genre a whole lot better.
Genre: Speed Metal, Power Metal
Band:
Giles Lavery- Vocals
Ben Thomas- Guitar
Aaron Bryn Thomas- Bass
Ray Martens- Keys
Alcides 'Seed' Stowe- Drums
Track Listing:
1. Watching My Every Move (feat. David Reece)
2. Onset Of War
3. Judgement Day
4. Bullet
5. Fear
6. Fly
7. Lucifers Hammer
8. Battle Cry
9. Eternally
Record Label: Killer Metal Records
Website: www.dragonsclawband.com
Hardrock Haven Rating: 5.5/10